Our Remodeling Process
Simplifying Bathroom Remodels & Enhancing Customer Experiences
Over the course of 40+ years, Re-Bath has completed more than a million bathroom renovations. That translates to over one million happy customers. So how did we do it? Our efficient sales and installation process provides homeowners with affordable luxury and an effortless experience.

Normally, a remodeling customer experience includes countless visits to warehouses and specialty stores to explore options, searching for a remodeler they trust to complete the project, and accepting a major disruption to their home life for the (sometimes lengthy) duration of construction.

Re-Bath, by contrast, turns remodeling into a simple three-step in-home process:
First, a Re-Bath design consultant visits the customer's home and learns about what they want and need, measures their space, and creates a free custom design.
Re-Bath then sends a crew to remove fixtures from the old bathroom and prep for installation.
We begin the installation process, which takes as little as 1-5 days depending on the scope of the project, with an average project ranging from 2-3 days.
Franchise owners use those advantages to win and complete more jobs more quickly — and at higher margins.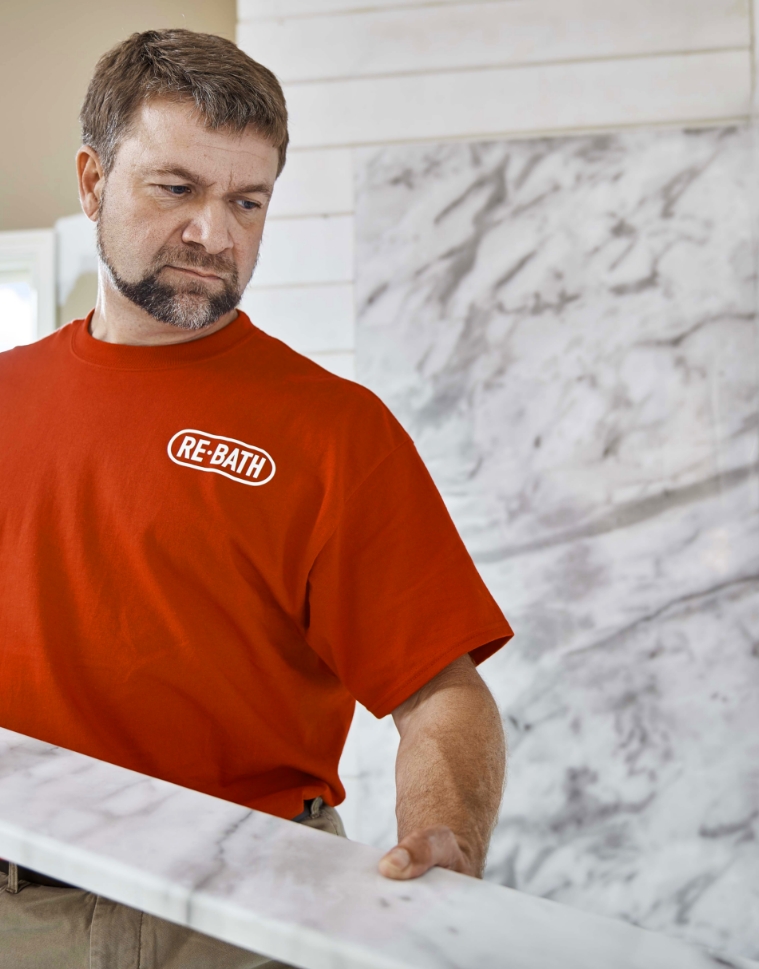 Easy For Customers, More Scalable for Owners
Throughout the remodeling project, customers work with a single contractor and a team of Re-Bath employees. Communication is simple. At the end of the project, customers have a beautiful bathroom and a warranty that covers the entire project.

While Re-Bath is price competitive, a huge part of our value proposition for customers is the speed at which we can transform their homes. Having contractors in your house is disruptive, so we reduce the typical remodeling disruption from 2-3 weeks to 1-5 days. This significantly changes the game for homeowners wanting to remodel their bathrooms but unable to accommodate a lengthy disruption to their lives.
Visualize What Your Franchise Can Create
How Are the Installations So Fast?
Once a customer signs a contract, project measurements and specifications are sent to our manufacturing facility in Phoenix. We manufacture materials specifically for each job and then ship the materials to the franchise location. Installers then assemble the components quickly at the customer's home. SInce tile is labor intensive and takes a long time to install, we use DuraBath™ and natural stone slabs.

Our fast installations are one of Re-Bath's greatest selling points and a common reason why our customers choose us over independent contractors. During your initial training, you'll learn more about our process and all the ways it benefits your bathroom remodeling business.
Check out our Why Us page to learn more about why we are a top choice among home services franchises.