About the Remodeling and Home Improvement Industry
A Massive Market Opportunity for Our Remodeling Franchise
The bathroom remodeling industry in the United States is booming, with more and more homeowners looking for ways to upgrade their bathroom space. From modernizing fixtures to adding custom features, bathroom remodeling can be a great way to add value and function to a home. As the interest and demand for bathroom renovations continue to increase, Re-Bath is taking advantage of this incredible opportunity as the only national bathroom remodeling franchise.
Several factors are driving the steep increase in remodeling spending:
Increasing home prices have encouraged owners to invest in remodeling projects.
Low new housing stock and high prices are leading homeowners to invest in their current homes rather than moving.
Older homeowners are remodeling their homes to make them more accessible. This is expected to accelerate as Baby Boomers continue to age.
America's housing stock is older, with more than half of homes being built before the 1970s.
As homes age, remodeling demand increases.
A surge in rental demand following the 2008-2011 housing crisis has led landlords to invest in improvements to rental properties.
Re-Bath has quickly become the best and most well-known national remodeling brand in the bathroom remodeling space and is setting the standard in our industry. With decades of experience and expertise in this field, Re-Bath provides franchisees with all the tools they need to make their bathroom remodel projects successful. Whether you're starting from scratch or hoping to expand your existing business, Re-Bath's comprehensive suite of services has everything you need to get your bathroom remodeling business up and running.
Re-Bath's business systems help our owners win market share and increase sales. Here's a brief graph for a look at the industry trajectory: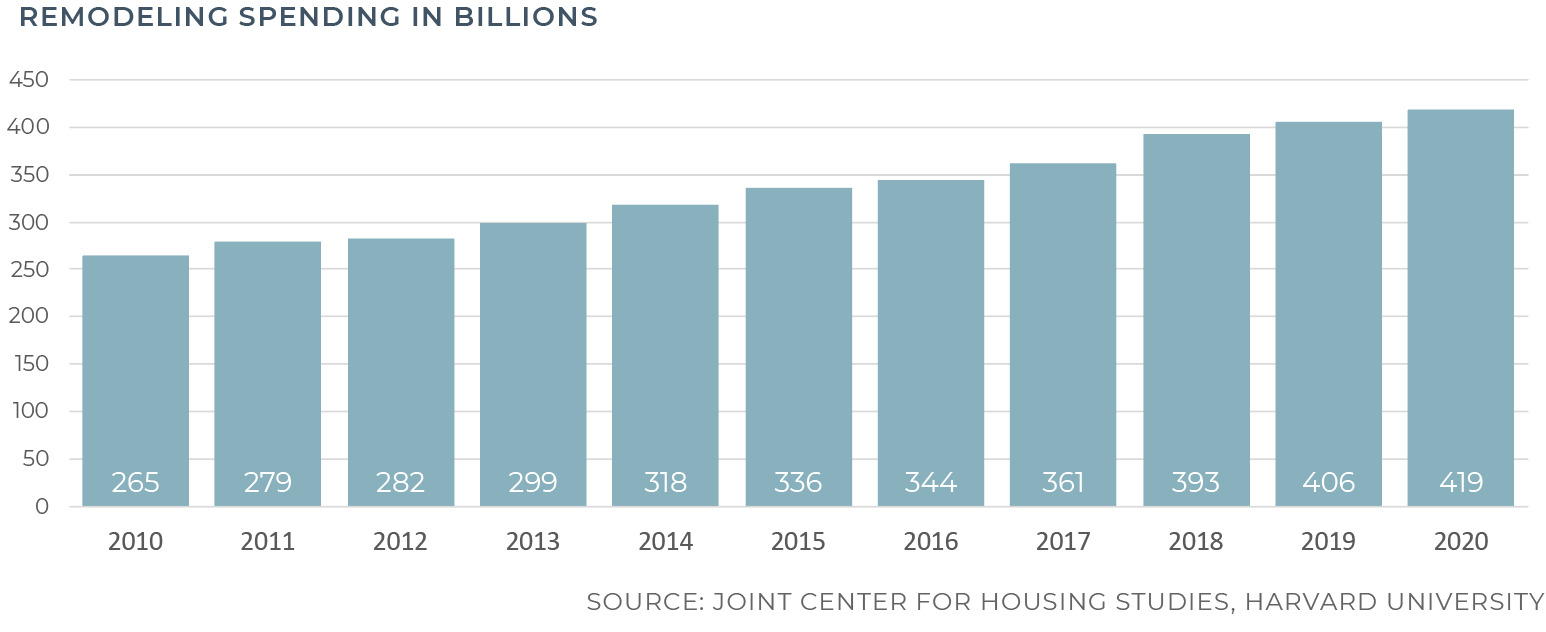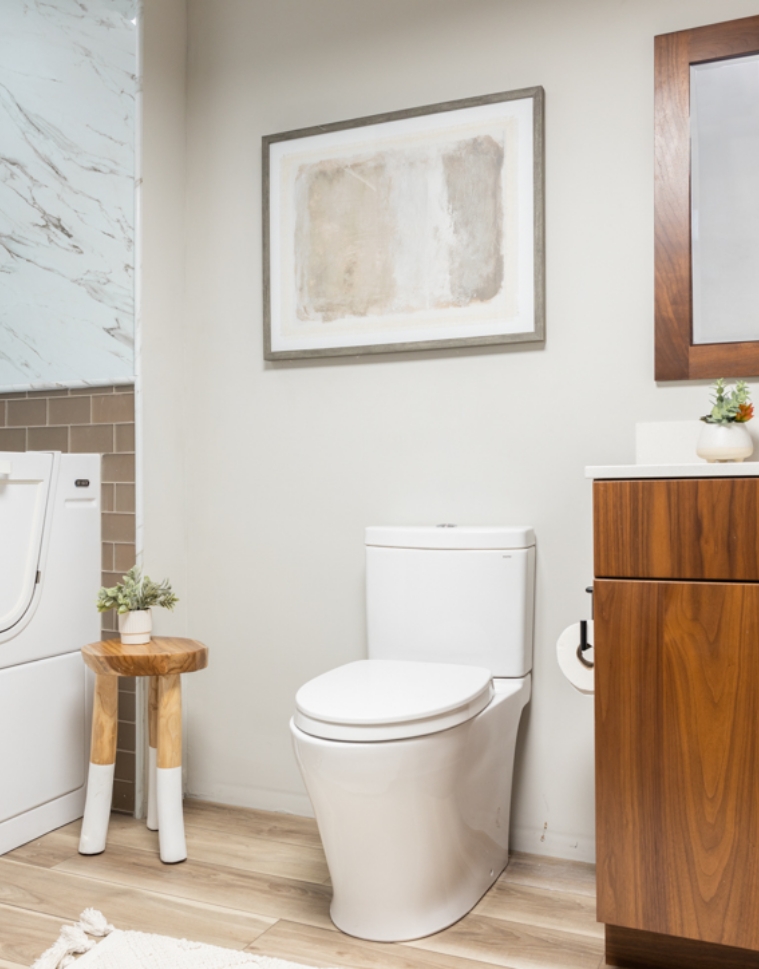 An Exciting Opportunity Awaits
If you are considering a bathroom remodeling franchise, Re-Bath is a perfect choice. The bathroom remodeling industry in the U.S. continues to grow every year. With over 120 franchises nationwide and thousands of satisfied customers since 1991, Re-Bath has established itself as an industry leader with unmatched quality and customer service.
Re-Bath bathroom remodeling franchises offer a variety of services, from bathroom design and installation to plumbing and fixtures. With Re-Bath, you can be sure that you'll always offer the best in bathroom remodels at affordable prices.
Ready to take the first step with our home improvement franchise? Fill out our contact form and we'll be in touch.

The Re-Bath Revenue Model
Our three revenue streams target different consumers to diversify your earning potential.
Full Bathroom Remodels

Tub/Shower Conversions and Updates

Aging in Place and Accessibility
The Bathroom Remodeling Landscape
The bathroom remodeling industry can be categorized into four segments. We compete in three of these segments and our business model offers major advantages that help franchisees capture market share in each of the following segments:
Tub & Shower Updates (Low-cost)
The least expensive remodels ($8,000 to $15,000) involve covering or resurfacing old showers and tubs, tub-to-shower conversions, or replacing an old tub or shower. Re-Bath installers can complete a tub/shower area remodel in just 1-2 days. Customers love the quick turnaround, but Re-Bath owners love it even more since it means installation crews can complete multiple jobs in a single week — increasing revenue potential.
Complete Bathroom Remodels (Mid-cost)
These projects generally range from $15,000 to $35,000. Homeowners in this price range are typically looking for a transformation of their entire bathroom. Re-Bath remodels are "pull and replace," which means removing existing tubs, sinks, cabinets, and toilets and installing new fixtures. The owner has the experience of a transformed bathroom, but the Re-Bath installation team is not doing heavy demolition or redoing electrical or plumbing, so projects can be completed in 3 days.
Aging & Accessibility Remodels
About 10% of Re-Bath's systemwide revenue comes from accessibility remodels that make bathrooms safe and comfortable for homeowners who have mobility issues. These remodels can be slightly more complex because they sometimes require additional plumbing or framing to accommodate features like walk-in tubs and zero-barrier shower basins, but installation is still completed within five days. Demand is growing quickly in this segment. According to the Institute on Aging, 20% of Americans will be 65 or older by 2030, up from 13% in 2010.
If you are ready to join the best bathroom remodeling franchise, we invite you to take the first step today and fill out our contact form.