Our Marketing Resources Support Your Business
National & Local Support for Your Remodeling Franchise
Re-Bath's long history of success and nationwide brand presence give franchisees a powerful advantage. Our major partnerships with retailers, real estate companies, construction firms, and other industry players help attract customers to our franchises. But in order to capitalize on these relationships and achieve the desired results, our franchisees must have an effective sales and marketing program in place.
The Re-Bath team will provide you with the resources and support you need to build your customer base and increase profits. Re-Bath enjoys a strong brand presence thanks to locations in 43 states, decades of advertising efforts, and partnerships with more than 2,000+ retail outlets nationwide. We offer both local and national marketing support and our branded marketing collateral is consistent and pervasive across the U.S.
Scalable National Marketing Platform
Re-Bath's national marketing builds awareness and drives overall marketing efficiency. Here are three ways we put our company in front of customers:
National television: National media campaigns, supported by media funds, run annually in Q1 and in Q3
National partnerships: Exclusive national partnerships with two of the top big box retailers.
Digital: National website, customized microsites by market, social media, and email drip campaigns.
Our consumer website employs search engine optimization (SEO) tactics to ensure that when people are searching online for a remodeler, Re-Bath is one of the first options they see.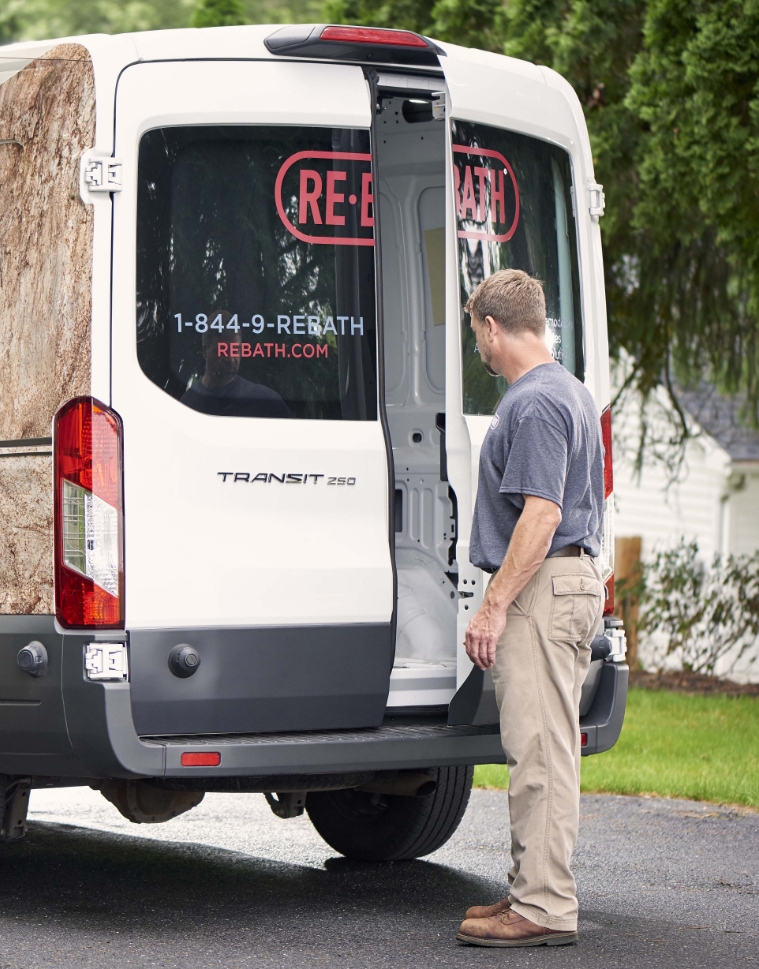 What happens when you combine a national network of committed franchisees with a supportive franchisor? You outperform in your markets. Franchise owners can leverage the marketing scale, reach, and know-how of a national brand and market to their geographies and consumers in ways independent contractors simply cannot.
Predictable Benchmarks, Professional Guidance
Franchisees receive training in using our marketing library, and we also offer marketing support and advice to help you build a plan and get the greatest ROI on your investment.
Consumer research: We learn what the customers want and expect from the home improvement and bathroom remodeling experience. We pay attention to the customer journey — from the beginning of their research all the way through to their satisfaction with the finished remodel. We identify pain points and opportunities at every step and use these insights to refine marketing and other processes.
Marketing plan development: We help you craft a marketing plan specific to the opportunities in your territory. We also help you track useful data — like cost per lead. We benchmark those costs using data from Re-Bath franchisees nationwide and help you spot opportunities to boost ROI.
Strong benchmarks: Thanks to a strong sales process, we have solid internal benchmarks for the number of leads needed to book a design consultation, and how many consultations it takes to book a job. This makes growing the business relatively simple: Invest in local marketing to maximize opportunities.
Our national marketing momentum and co-branding with home improvement retailers are driving more efficient local marketing spend. Learn more about our National Accounts and how you can leverage them to further grow your business.
As a Re-Bath renovation franchise owner, you'll have the freedom to focus on running your business, interacting with your team, and providing outstanding experiences for your customers while we put your business in front of the right people.
If you're ready to get started, review our Steps to Ownership and then take the first one today!