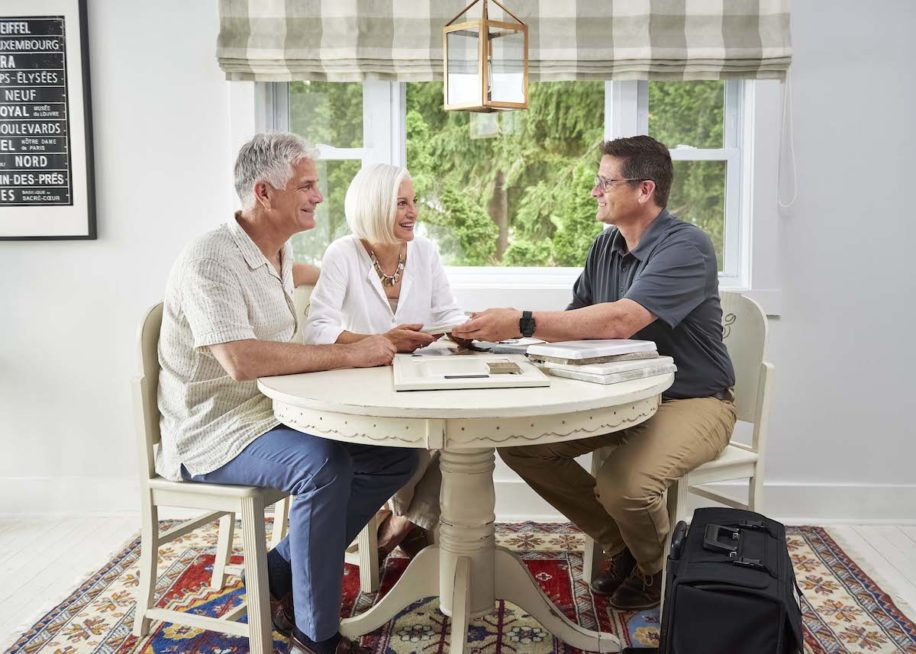 This article about creating a family business succession plan, authored by Re-Bath franchisees, was originally published on Franchising.com
Our succession plan story
Do what you love, love what you do, and love who you do it with.
Now, 5 years into running a business with my brother Levi after taking over our father's Re-Bath franchise – expanded in 2019 to take over a neighboring franchise territory – we couldn't picture running things any other way.
All our lives, we watched our father, Mike Wood, run a successful construction company. He started that business in 1977 and would take us with him to jobs, ever so slowly showing us the ins and outs of running a business. When we were around 8 or 9, he would have us help clean up after a job – and quickly became known for having the cleanest job sites.
All nine of us siblings worked in the business at some point. But in the end, it was Levi and me who were left with a passion for the industry and a desire to learn more.
In 2000, our dad opened a Re-Bath location in Middle Georgia. In the beginning years, I spent time as an installer and in sales, and wore many different hats. Levi followed in my footsteps and started working as an installer and design consultant before helping me manage Re-Bath and grow the business.
Around mid-2014, the succession process began, and our dad officially retired in 2016. From our experience, here are some best practices for a seamless family business succession planning process.
Educate yourselves and seek professional support
Not wanting to become part of the 70 percent of family businesses that don't survive the transition to the second generation, our dad hired a business planner to assist in the transition. The business planner essentially coached him on how to coach us as we were going through this transformative period. Together the three of us spent many hours researching and reading books on the succession process and what it takes for a family business to survive.
Prioritize family relationships
In the words of my brother Levi, "It would be very unwise to pass the business down to siblings who don't get along." Over the years, we had proven our ability to work through conflict, which started at a young age. As a couple of kids on a job site, when we'd bicker about little things our dad would always tell us that when we're on the job we need to look at each other as co-workers, not brothers. That advice really hit home with us, as we recognize that we have more to lose. At the end of the day, we're still family, so it's crucial that we maintain our relationship by always prioritizing family over business.
Communicate openly and review your succession plan regularly
Communication had always been something our father prioritized with us. When were growing up, he was always showing us the ropes of the business and explaining how things worked. He kept those lines of communication open throughout the succession process, starting with a clearly mapped out timeline. Through the help of our business planner and our own research, we had a clear idea of what we needed to do and how things were going to work out.
While drafting the business agreement, the three of us were active participants, reviewing each draft in-depth, making sure we understood the full scope. We weren't afraid to voice opinions or ideas during the process. There was a clear, mutual understanding that transparency would lead to the best result.
We keep communication at the forefront of our partnership today. Once a month, we'll sit down and discuss the business: how it's going, are there any issues, what goals have been reached, what goals need to be set, etc. We find that this helps us maintain both the professional and personal sides of our relationship.
Use your networks
Becoming franchise owners meant that we had the privilege of joining a network of other Re-Bath franchisees across the country. In franchising, an often overlooked part of succession planning is the network of owners you can to turn to for advice on running the business. We call it our "built-in support system" and attribute our success to it. The support from Re-Bath and countless franchisees has been the key to our success. We usually get together with the other franchisees twice a year and discuss best practices, coach, and support each other. It's like its own partnership in itself.
We have seen tremendous growth since taking over, growing 50% last year over the previous year. This year, we will have doubled sales in 2 years' time.
There are times where things get stressful and overwhelming, but when you've set the foundation for a smooth transition, it becomes enjoyable to watch the business grow.
Jordan Wood is co-owner of Re-Bath Middle Georgia. For years, he and his brother Levi Wood worked for their father, Mike Wood, who owned a Re-Bath franchise. When their father was ready to retire, they went through the succession planning process as a family, setting the stage for their legacy business.