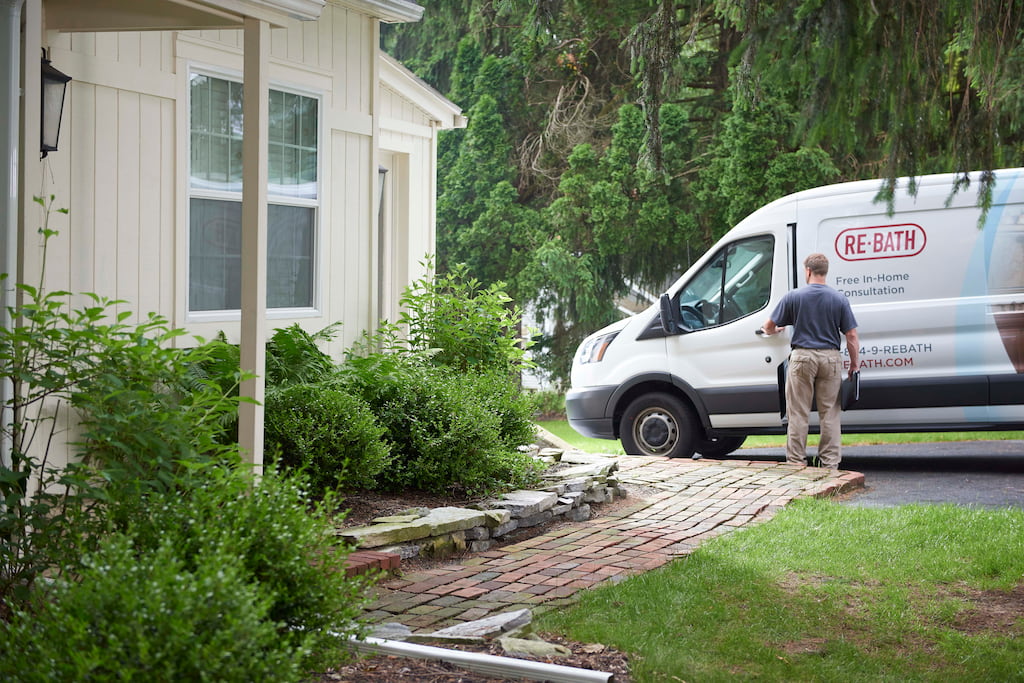 How many remodelers have been hired to clean up after unsuccessful do-it-yourself projects? Quite a few, as it turns out. Among homeowners who tried to do their own remodeling rather than hiring a pro, 63 percent admit to regretting the outcome. And at least half the time, those who invest their time and money in DIY only to be dissatisfied with the results wind up hiring a pro anyway—a pro who, after redoing what the homeowner did wrong, costs more than if they had started from scratch.
Besides ultimately requiring more investment than a paid contractor, do-it-yourself remodeling tends to look slipshod, and can even be dangerous for consumers—especially when dealing with electrical wiring. Even knowing this, many people have their own lists of problems they fear a professional remodeler will cause. Re-Bath understands these concerns and takes all necessary steps to help homeowners overcome them.
Here's how our approach benefits both customers and our franchisees.
Remodeling fear #1
"A contractor will work too fast and turn out inconsistent or poorly designed results."
Re-Bath's solution: We've built a whole brand around being able to finish projects quickly while still delivering top-quality results. Our supply and installation approaches utilize well-proven systems to combine the greatest efficiency with the most reliable results. And our service packages include post-project follow-up to confirm customers are satisfied.
Aesthetics are also important to homeowner satisfaction (and franchisee success). Re-Bath understands that our customers are looking for a combination of design and function. To ensure that homeowners will be pleased with their remodeled bathroom, our franchisees provide complimentary design consultations to each client.
Remodeling fear #2
"Contractors take too long completing their work: it disrupts our routines too much. What if they don't show up on schedule?"
Re-Bath's solution: Since our specialty is the efficient replacement of existing lighting, vanities, tubs, and showers, we can be in and out in 1–5 days. We don't complicate things with a slew of subcontractors, either: all the work is done by Re-Bath's own installers, and the franchisees maintain central control over each project. This enables our franchisees to oversee quality control, scheduling, and project timelines on an individual level. We have found that this involvement makes our customers – and our franchisees – happy with each and every Re-Bath remodeling project.
Remodeling fear #3
"I won't have any clear idea what I'm getting until it's finished. What if I don't like the results?"
Re-Bath's solution: One advantage of being a major bathroom remodeling brand, with franchisees in nearly every state and hundreds of millions of dollars in combined annual sales, is that we don't have to leave any prospective customer in uncertainty. Anyone who needs clarity on what they're getting can visit our B2C website or the nearest showroom, or can contact us for a free consultation. These design consultations are a cornerstone of our business; during this phase, we show homeowners the options that are available to them. When customers benefit from clear expectations and honest communication, they return to Re-Bath franchises time and again.
Remodeling fear #4
"What if there are hidden costs I haven't budgeted for?"
Re-Bath's solution: Unless a project is extremely complicated—along the lines of having walls demolished for major plumbing reconfigurations or electrical work—changes and cost overruns are less common than most people may think. Re-Bath franchisees offer homeowners a one-time price, giving them a concrete idea of what our costs will be. Change orders only happen when the homeowner would like to modify our scope of work or add more products. This process means that we can be consistent about delivering on time and at accurate cost estimates, for customer satisfaction.
When homeowners choose to work with reputable companies like Re-Bath, they will receive a clear cost estimate and mutually beneficial agreement that outlines all potential fees. If there are any changes to the plan, franchisees can work with clients on a case-by-case basis.
Join our Team
Re-Bath is the largest interior remodeling company in the United States, annually generating high satisfaction for our customers and millions of dollars for our franchisees. If you're an entrepreneur with a passion for improving homes without disrupting everyday life for the homeowners, we might have the franchise you're looking for. Contact us at 888-454-8842 for more information or use our online form to order a Business Model eBook.