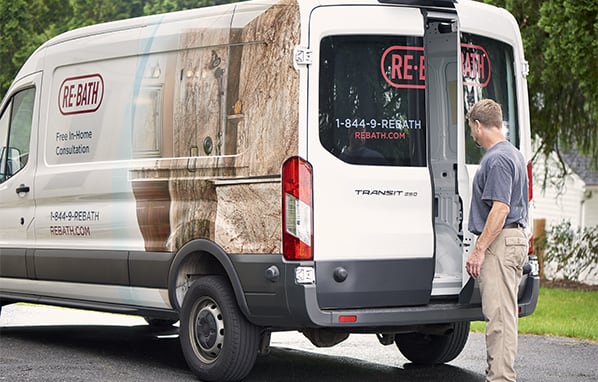 There are several ways in which an entrepreneur may enter the market. Many individuals get their start under the banner of an established franchise with proven and established processes, systems, brand, products and supply chain. Others make the decision to sign a product distribution agreement and are left to develop their own brand and systems. Between these two approaches, franchisees of Re-Bath have a clear competitive advantage over independent distributors. What are the benefits of being a franchisee vs being a distributor?
Marketing and branding
Re-Bath franchisees have the right to sell unique bathroom fixtures and remodeling services under the brand Re-Bath within a protected territory, while distributors purchase products for the sole purpose of resale under their own brand, often without protection from competitors marketing the same bath products and remodeling services. Perhaps the most common reason that individuals choose to go the franchise route is due to a strong brand presence, national media and digital advertising support to bolster local marketing, proven sales systems, and proven operating and installation methods and systems which create a positive customer experience.
Additionally, Re-Bath franchise owners generate lead referrals from national accounts with the two largest home improvement giants. Even customers unfamiliar with Re-Bath's offerings are reassured by partnerships with trusted household names.
Lori Lund, President of the Re-Bath remodeling franchise in Phoenix, Arizona, stated, "The relationship that we have with one of the home improvement giants drives 40% of our business. When customers find out about our relationship, they trust us immediately to do their remodeling project."
Franchisees also enjoy collaborative marketing efforts. Instead of attempting to brand and promote a standalone location, as a distributor would, franchise owners benefit from pooled resources for digital advertising, professionally developed websites, and new media expertise. This ongoing support drives new business and ensures that marketing budgets are always well allocated for optimum return on investment.
Operational systems and support
Distributors may offer contractors access to sell products and remodeling services, but unlike Re-Bath, they don't offer their licensees a proven end-to-end business model, franchises like Re-Bath bring a lot more to the table than product and supply chain management, including:
Proven marketing systems
Franchisees don't struggle to promote their locations, navigate pay-per-click advertising efforts, or establish a digital presence. Re-Bath provides access to fully optimized marketing systems and marketing campaigns, including national television commercials, designed to convert.
Installation training and systems
Re-Bath's installations are as important as our designs. Each franchisee benefits from extensive, proven training and systems – there is no guesswork in a Re-Bath build.
National account pricing advantages
As the largest interior remodeling company in the country, Re-Bath offers incredibly advantageous pricing only available to national corporations. Participation in a Re-Bath franchise guarantees attractive pricing that benefits customers and franchisees alike.
Franchisees benefit from scalability
Re-Bath's systems and support are designed to help franchisees drive revenue and sales volumes. Americans spend over $18 billion per year on bathroom remodels, and customers continue to choose Re-Bath because the franchise helps them to complete more jobs over shorter project timelines. Thanks to proprietary remodeling processes, efficient operational guidelines, and national partnerships, Re-Bath franchise locations are built to scale.
Collective genius
Running a business is a process of ongoing trial and error. Joining a franchise enables entrepreneurs to benefit from hundreds of years of collective experience; each situation can be overcome through guidance from established franchisees and company leadership. Additionally, companies like Re-Bath have compiled training, lessons, and institutional knowledge acquired over the course of hundreds of millions of dollars' worth of bathroom installations. This level of expertise is only accessible through membership in a franchise.
Franchisee equity
The standard owner-dependent small business has limited value in the event of its sale. Most of these companies rely heavily on the involvement of a few specific individuals (usually the owner and other leadership), whose involvement will cease after the business has been sold.
This is not the case for a franchise location. Each franchisee can rest assured that their business has significant resale value. Because Re-Bath is an established brand with proven systems, it is simple to transfer the location and customer relationships between owners with minimal disruption. The typical transferable small business sells for two to four times owner earnings.
Interested in becoming a re-bath franchisee?
Revenue for Re-Bath locations far exceeds remodeling industry averages. Independent contractors typically achieve sales of $300,000*, while a Re-Bath franchisee can earn $2.1 million.**
Ready to remodel your future? Apply now.
*Compared to NAHB annual independent contract figures, depends on size of business. **Annual sale range based on Re-Bath's 29 franchise units that range from 500,000-1,249,999 in population, as referenced in Item 19 of the 2021 FDD. This information is not intended as an offer to sell, or the solicitation of an offer to buy, a franchise. It is for information purposes only.