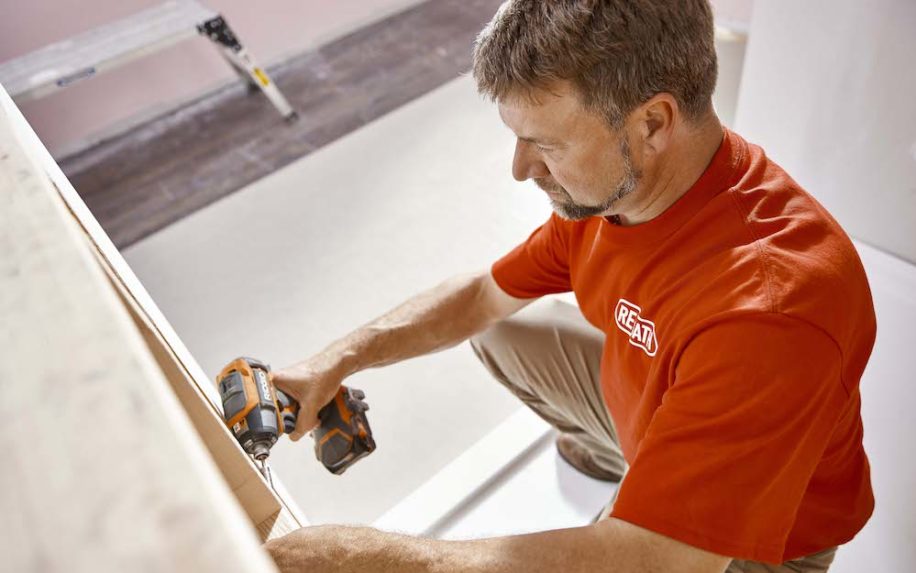 Re-bath effectively onboards installers
We've previously discussed the impact that labor shortages have had on the remodeling industry. If you read that post, you already know that Re-Bath's recent innovations and people-first policies have helped us to overcome the hiring problems faced by many franchises today. We're all about improving the lives of our franchisees and their employees. That's why we believe that when workers are hired, they should have the tools to do their jobs well. Our proprietary approach to installation means that Re-Bath franchisees have an easier time onboarding installers. Here's why.
We remodel differently
A key difference between Re-Bath and our competitors is the way that we work. In the custom remodeling world, employees are demolishing walls. They may be asked to wire rooms or handle complex plumbing tasks. It's no surprise that this presents a high barrier to entry for installers nationwide. It takes years to master the tasks required by custom kitchen and bathroom remodelers – and weeks to complete their remodels.
That's why we do things differently. Re-Bath offers an array of beautiful, quick-install fixtures for homeowners to choose from. For of each project, our installers simply pull out old fixtures and replace them with new ones. They aren't required to provide services related to plumbing or electrical work. This means that Re-Bath franchises can quickly teach new hires the tools of the trade (without years of training).
Our fixtures are easy to install
We're the top bathroom remodeling franchise for a reason! The Re-Bath installation process is the secret to our success. Over the course of more than one million bathroom renovations, we've perfected a three-step method that saves customers countless warehouse visits.
After step one (consultation, measurement, and design) and step two (fixture removal and prep), we begin the third step: installing new fixtures. This process takes as little as one to five days. How? Easy-to-install fixtures.
Once a customer signs a contract, their bathroom's measurements are sent to our facility in Phoenix, Arizona. That's where we manufacture materials specifically for each job. After everything is built exactly to project specifications, we ship all materials directly to the job site. From there, Re-Bath installers are able to quickly and easily assemble the components. Our franchisees are not responsible for cutting down, customizing, or otherwise modifying our fixtures.
We train well
Re-Bath has built a work environment that inspires our employees just as much as our customers. A key component of this is our initial investment in every single worker. Re-Bath's training systems provide an excellent foundation for all new installers. Our thorough, accessible lessons make it easier to hire unskilled employees and teach them a trade. We lay the groundwork for every person who joins our team, whether they're building dream bathrooms or offering unparalleled customer service.
Join the re-bath family
America's home remodeling industry brings in over $419 billion each year. With over 1,600 retail outlets, a partnership with Lowe's, and $416 million in systemwide sales in 2021*, Re-Bath has become the country's premier bathroom remodeling franchise.
Revenue of Re-Bath franchisees also exceeds industry averages. While the average independent contractor earns $300,000 per year, our franchisees see about $2.1 million in sales.*
You can hear about our difference straight from our franchisees. Sean Senno, who has owned Re-Bath franchises for more than 12 years, says, "I found Re-Bath has many proven processes. This is something I did not have owning my own business."
Interested in how we do business? If you'd like more information about improving your hiring and training processes, talk to Re-Bath. We'll show you the tools our franchisees use to hire, train, and retain fantastic installers all over the country.
* See Re-Bath's Franchise Disclosure Document for information about specific revenue figures.