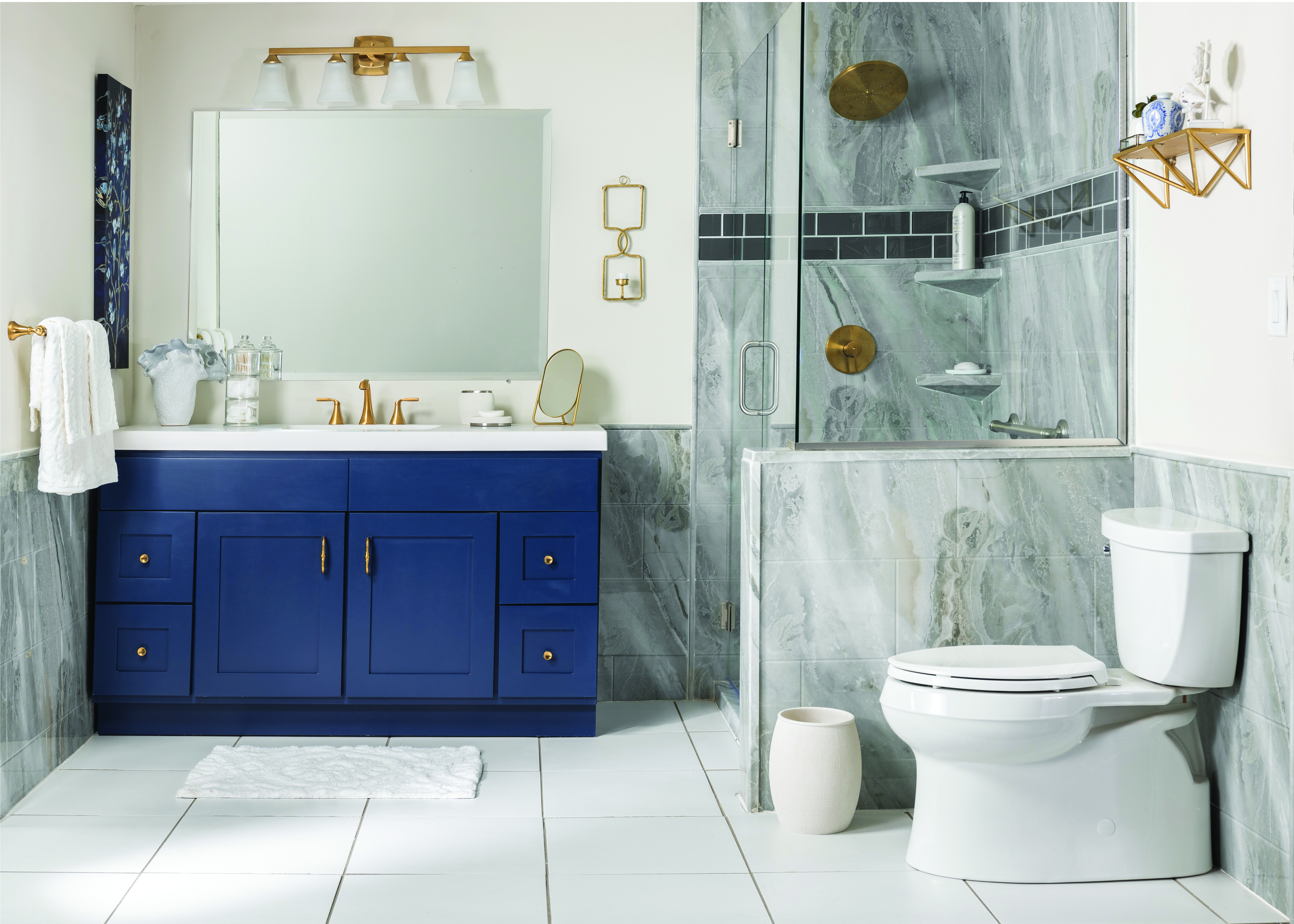 This year, the world of home remodeling has been buzzing with fresh ideas and exciting trends. The bathroom, once a purely functional space, is now at the forefront of design innovation. Walk-in showers with expanded sizes, shower seats, multiple shower heads, and zero-entry showers are taking center stage. But it's not just about function; these showers are becoming showcases of style with natural light sources, accent lighting, high-end finishes, and visually stunning wall tiles.
The National Kitchen & Bath Association (NKBA) predicted 2023 as the year of the shower, and it's a trend that we can get behind! In this blog, learn how Re-Bath's customer-focused approach and on-trend design options empower franchisees to create the most in-demand stylish, inviting, and unique bathroom spaces – effortlessly!
Embracing Bathroom Remodeling Trends
At Re-Bath, we've always believed in creating bathroom spaces that seamlessly blend comfort, accessibility, and style. The latest remodeling trends are in perfect harmony with our mission. Let's explore how these trends and Re-Bath's franchise opportunities align to empower potential franchisees to create popular and inviting bathroom spaces.
1. Spacious Walk-in Showers and Ageless Accessibility
One of the standout trends is the prevalence of spacious walk-in showers. These showers offer not only ample room but also accessibility features like shower seats and zero-entry designs. The emphasis on creating bathrooms that are easy to navigate for people of all ages aligns perfectly with Re-Bath's commitment to creating comfortable and accessible spaces.
As a Re-Bath franchisee, you'll have access to a range of design options that cater to these trends. Our product offerings include walk-in showers, shower seats, and stylish, low-threshold shower bases. You'll be able to meet the demand for ageless accessibility while delivering on-trend design solutions.
2. Multifunctional Spaces and Spa Atmospheres
There is a desire to highlight multifunctional spaces that cater to work, education, and entertainment needs. Homeowners are increasingly transforming their bathrooms into spa-like retreats where they can relax and rejuvenate. This aligns perfectly with Re-Bath's focus on creating bathroom spaces that offer comfort, affordable luxury, and functionality.
Re-Bath franchisees have access to a wide range of products and design concepts that can help homeowners create spa atmospheres within their bathrooms. Re-Bath provides an extensive range of options to enhance your bathroom, including DuraBath™ which features low-maintenance patterned acrylics in various styles that emulate luxurious surfaces, and DuraBath™ Natural Stone, thin-sliced natural stone wall systems that provide the elegance of high-end surface materials at an affordable price point for mid-income homeowners.
From high-quality fixtures to stunning wall tiles, you'll be able to offer solutions that cater to the desire for multifunctional, spa-inspired spaces.
­­3. Transitional and Contemporary Styles
Other popular design choices dominating bathroom design are transitional and contemporary. These styles emphasize clean lines, modern aesthetics, and timeless appeal. Re-Bath's commitment to providing on-trend design options positions potential franchisees for success in delivering the bathroom styles that homeowners desire.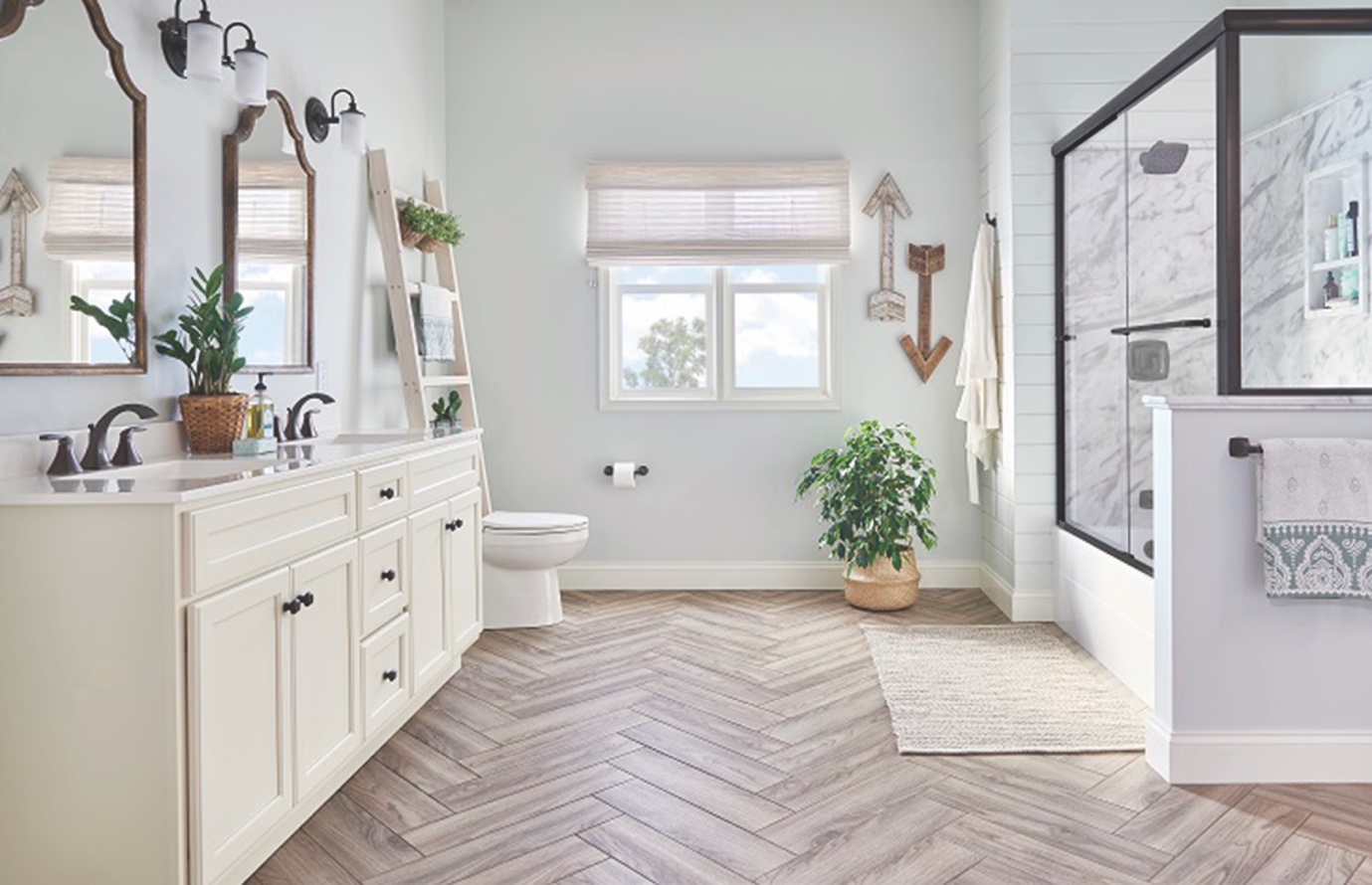 Re-Bath offers a wide range of design options and finishes that align with transitional and contemporary styles. Whether it's sleek fixtures, minimalist cabinetry, or elegant lighting, you'll have the tools to create the latest stylish bathrooms that are in high demand.
4. Popular Color Palettes
Color plays a crucial role in bathroom design, and the desire for colorful cabinetry and the popularity of blues, greens, whites, grays, and neutrals is taking the forefront of remodeling. These soothing and versatile color palettes are perfect for creating inviting and stylish bathroom spaces.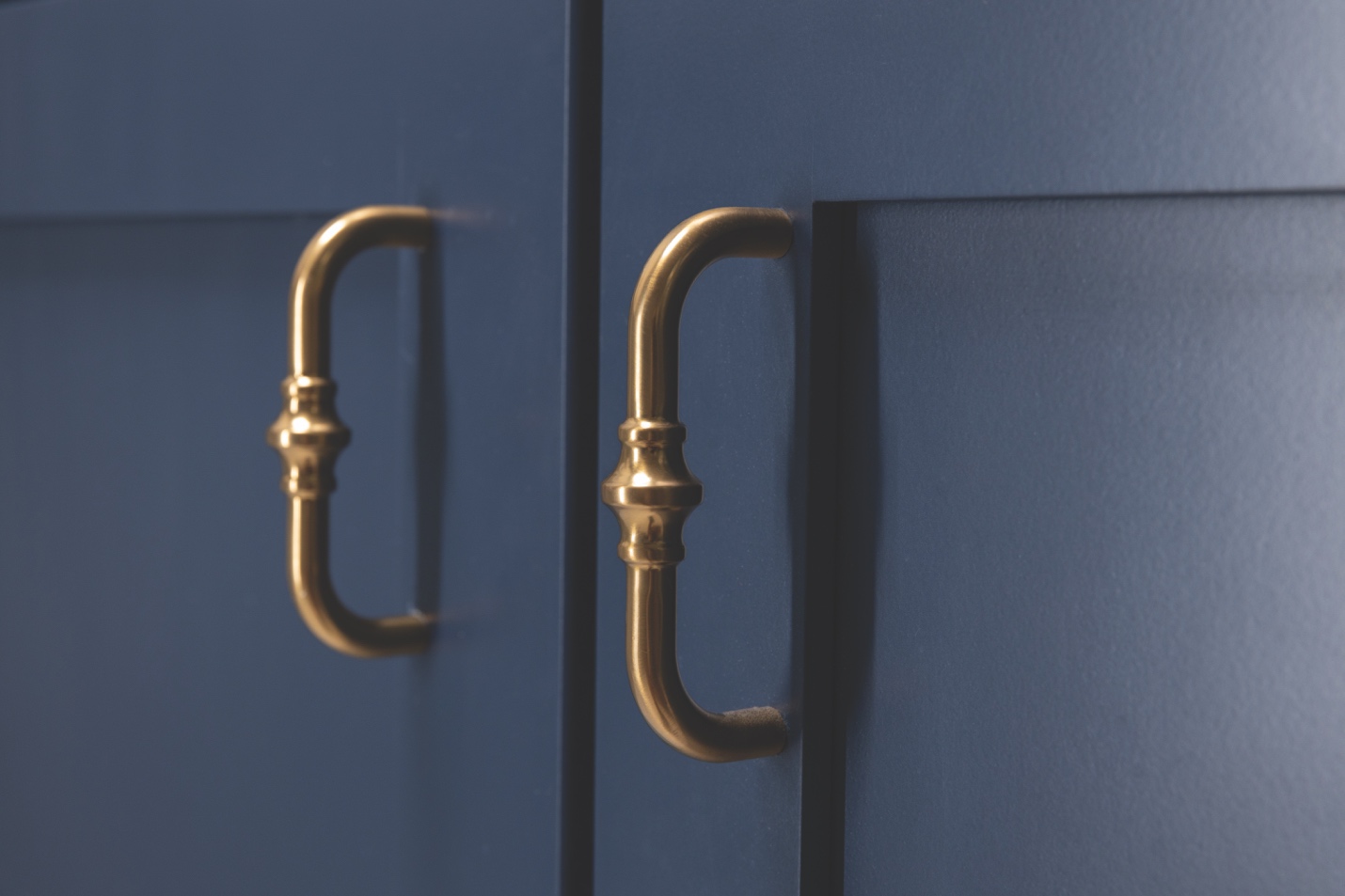 As a Re-Bath franchisee, you'll have access to a variety of color options and finishes that cater to these popular palettes. You can guide homeowners in selecting the perfect colors that align with their preferences and the latest trends. Paired with Re-Bath's hassle-free process, designing a vibrant bathroom has never been simpler.
The Re-Bath Advantage for Franchise Success
So, how does Re-Bath empower potential franchisees to capitalize on these bathroom remodeling trends? It's all about synergy. Re-Bath's focus on customer satisfaction and on-trend design options ensures that franchisees can offer homeowners the latest in-home remodeling while maintaining a commitment to quality and accessibility.
Our franchise opportunities provide you with:
Comprehensive Support: From initial training to ongoing guidance, Re-Bath is there every step of the way to support your success.
Proven Products: Access to a wide range of high-quality, on-trend products that align with remodeling trends.
Marketing Expertise: Benefit from our marketing strategies and brand recognition to attract customers seeking the latest in bathroom design.
Customer Satisfaction: Our commitment to customer satisfaction ensures that homeowners are delighted with their bathroom transformations.
Join Re-Bath and Create Stylish, Inviting Bathrooms
These days, it's all about creating spaces that blend style, comfort, and accessibility. Re-Bath franchise opportunities are the perfect avenue for potential franchisees to leverage these trends and create popular, in-demand, inviting, and stylish bathroom spaces.
If you're looking to enter the world of franchise ownership and want to be part of a brand that's at the forefront of bathroom design, consider joining Re-Bath. Together, we can transform bathrooms and create spaces that homeowners love. Contact us today to learn more!