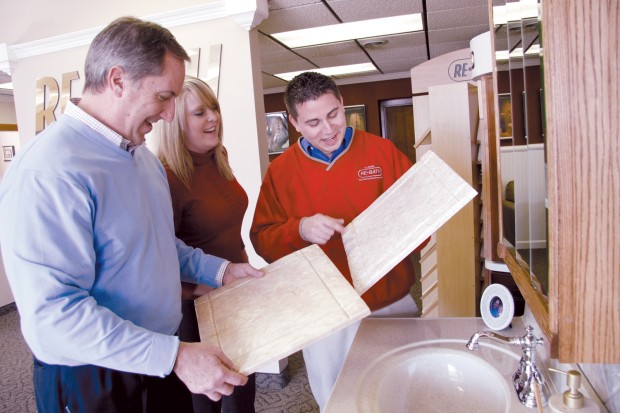 Re-Bath remodeling franchise eyes 6 cities for expansion
As the remodeling industry continues its upswing, the Re-Bath remodeling franchise is taking advantage of the robust market conditions with an aggressive expansion campaign.
Re-Bath completes more than 32,000 bathrooms a year and generates about $180 million in systemwide retail sales, making us the leader in the remove and replace remodeling segment.
With remodeling services in high demand, now is the perfect time to invest in Re-Bath. Spending on remodeling is expected to jump 8.6% in 2016, according to the Joint Center for Housing Studies of Harvard University, and the industry overall is an estimated $325 billion. Continuing increases in home prices and home sales is likely encouraging homeowners to move ahead with more home improvement projects, the Joint Center reports.
We have sales and operations systems in place to help you serve more customers more quickly and potentially generate significantly more revenue than a typical remodeler. A typical Re-Bath project is completed in 3-5 days, rather than the average 3-5 weeks that's standard in the remodeling industry.
Territories with strong potential for a Re-Bath remodeling franchise
As our Tempe, Arizona-based franchise is growing, we've mapped out a list of cities that are ripe for Re-Bath franchises:
Kansas City
Charlotte, North Carolina
Greenville/Spartanburg, South Carolina
Providence, Rhode Island
Fresno, California
Seattle, Washington
"As the nation's dominant bathroom remodeling franchise, we pride ourselves on offering an exceptional level of customer service as well as an exceptional finished product. We offer key advantages in terms of accelerated project timelines. All of these factors, combined with our outstanding, time-proven systems, provide Re-Bath franchise owners excellent opportunities to take advantage of prime conditions in the remodeling market," says Jeremy Wallace, Vice President of Franchise Development.
Name recognition provides big advantage
Re-Bath currently has 150 franchise locations across the United States. We view these 6 targeted cities as prime areas for growth and a perfect opportunity to expand our Re-Bath franchise family. Franchisees with Re-Bath can count on excellent ongoing franchisee support.
"I had looked at some other products and companies, but no one else has the name recognition that Re-Bath has and no one else offered the same level of support they offer their franchisees," says Chris Deck, our Maricopa, Arizona, franchisee. "For example, their sales and installation training is huge. Their buying power allows for discounts on all of the products used in a full bathroom remodel. These are just a few of the ways that Re-Bath's proven system can have a huge impact on my business."
Partnership with industry giant drives referrals
We have a partnership with The Home Depot, offering Re-Bath kiosks inside selected stores, bringing our own credibility as a long-standing national remodeling franchise to a brand that's a household name, with more than 2,200 retail locations. And we are a full bathroom remodeler that manufactures a complete line of products, allowing us to offer the consumer a wide array of finishes and materials including natural stone.
To learn more
To find out more about the world's largest bathroom remodeling franchise, please fill out the form to download our free franchise report to learn more about our franchise company.