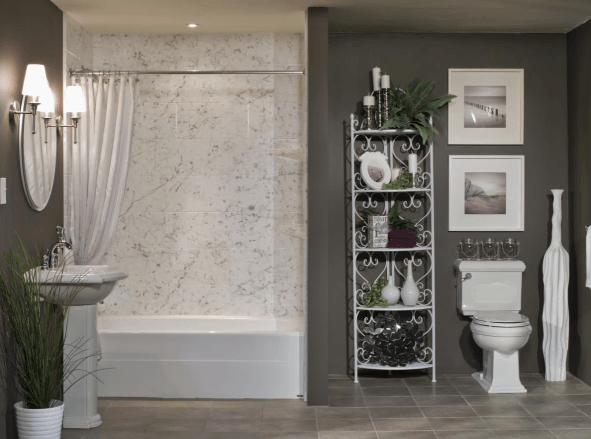 Strong market and little competition make for huge potential for remodeling franchise investors
Investing in a new business is a big financial decision, and it's crucial to make sure you're putting your money into something that will work for you. Investing in a remodeling franchise like Re-Bath is one of the smartest investments you can make, and below are just some of the reasons why.
Strong market growth and resilience
The Joint Center for Housing Studies of Harvard University estimates the worth of the home bathroom remodeling market at $15 billion. With few remodeling franchises to compete with nationally, Re-Bath is well positioned to make a bigger impact in the market.
There are other competitors targeting the lower and higher ends of the bathroom remodeling market, but Re-Bath stands on its own as the only national remodeler aiming at the middle-income and upper-middle income markets.
Low costs with high revenue potential
Our startup costs at Re-Bath are low, requiring just $50,000 for the initial investment, although it may be even lower for existing contractors with a business infrastructure already in place. Ongoing operational and supply costs are low as well, since we manufacture our own line of products and also offer proprietary products to our franchisees. Our relationship with The Home Depot has also proven lucrative, with high-visibility kiosks in some stores generating as much as 80% of some franchisees' revenues.
Re-Bath's efficient systems and universal installation process help us finish a single job in three to five days, compared to three to five weeks for most contractors. That efficiency helps our clients by minimizing the disruption to their home life and allowing them to enjoy their beautiful new bathroom sooner. Franchisees benefit by helping more clients and bringing in more revenue in shorter periods of time. Lower costs and higher revenue potential make for a compelling combination for investors.
Continuing to build on a strong foundation
Investing in Re-Bath means investing in the lessons we've learned and the foundations we've built on for decades. When starting as an independent contractor, new businesses have to reinvent the wheel and start from scratch, often working in isolation with no one to learn from. When you purchase a Re-Bath remodeling franchise, you invest in a company that has learned lessons over the years, has the wheel ready to go and has a network of corporate support and other franchisees to work with and learn from.
We know the remodeling business, and we have the systems in place to help you learn and ramp up your business more quickly. That collective, earned knowledge, along with the marketing muscle of a nationally known brand, gives our franchisees a step up on the competition right from the start.
Learn more about the opportunity
To receive a specific estimate on how much it would cost to convert your contracting business to a Re-Bath franchise, please fill out the no-obligation form. We will be in touch as soon as possible. We look forward to hearing from you!