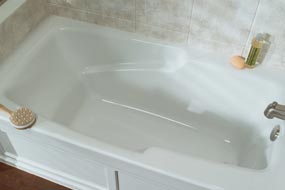 Former roofing contractor sees opportunities for revenue growth with an existing bath remodeling franchise
After many years owning a successful roofing and siding business, Mark DeGrande was ready to make a change. When his longtime business partner decided to retire, they sold the business and Mark was on the lookout for a new opportunity, which ultimately led him to Re-Bath. This is his story.
What were you doing before you purchased your Re-Bath franchise?
I had my own roofing and siding business for 15 years, along with a partner. So, I was already familiar with the home improvement space.
What led you to Re-Bath?
Well, I actually had looked into Re-Bath years before, but the territory was already taken in my area. As I mentioned, I was already in the construction business through my roofing and siding company. That business was very seasonal and I had several dead months during the winter every year. So, I was looking for ways to add on to my existing operations and help smooth out those rough months and have steadier year-round income. But the Re-Bath territory in my area was already taken, so I put it out of my mind for a few years. Then last year when my business partner decided to retire and we sold the roofing business. I started looking for my next venture and it turned out that a Re-Bath franchise in several hours away was for sale because the owner also wanted to retire. So, the timing worked out well.
What made you decide to buy an existing business versus starting a new Re-Bath franchise from scratch?
I had already started something from scratch and I didn't want to do that again. I really wanted to buy into an existing business that had a good reputation and cash-flow, etc… So, I was able to look into it closely; I went over their books and I liked what I saw. I flew out to Arizona and met with the folks from Re-Bath corporate and liked what I saw there as well.
What was the transition like from the previous owner to you?
Well, Mike and Adrianne Reed, the previous owners, stayed and worked with me for two weeks to go over everything. The day-to-day stuff. There was a lot to take in, though. I probably could've used a few more weeks! But they were great. Mike told me I could call him any time with any questions, and I definitely took him up on that. I probably talked to him three to five times a week for at least three months. Of course, the calls tapered off the more up-to-speed I got, but he was great.
What kind of training and support did you receive from Re-Bath?
They've been very supportive. At first, I figured since I had run my own roofing and siding business for 15 years, I wasn't going to need much help. I already knew how to run a business. How different could roofing and bathrooms be? I found out pretty quick that they're very different. Just the amount of suppliers alone was a huge change. Before in my roofing company, I was able to get everything I needed from pretty much one supplier. Now I have a dozen or more. That in and of itself is a lot to keep track of. But the guys at Re-Bath were great. Also, there's a regional group of franchisees they call MARDA, Mid America Re-Bath Dealer Association, that's made up of Re-Bath owners in my part of the country. That is a great support system to have as well. These are people doing exactly what I'm doing, and we are in a unique position to help each other out.
What's your long-term goal with this business?
My goal is to at least triple the annual net income of my franchise, which I think is very doable. That's one of the reasons I went with Re-Bath; it's got real growth potential. I've upgraded a few systems to help with that. One major change is that I've moved everything to digital. Paperwork orders, approvals, etc., are gone. The sales guys have iPads and the techs have smartphones and all the relevant forms are on them. So, a client can be 150 miles away, which many are, and sign a document on the device, and I'll have it right away. That really speeds up the process and allows me to get jobs done more quickly.
Learn more about the opportunity
To receive a specific estimate on how much it would cost to convert your contracting business to a Re-Bath franchise, please fill out the no-obligation form. We will be in touch as soon as possible. We look forward to hearing from you!