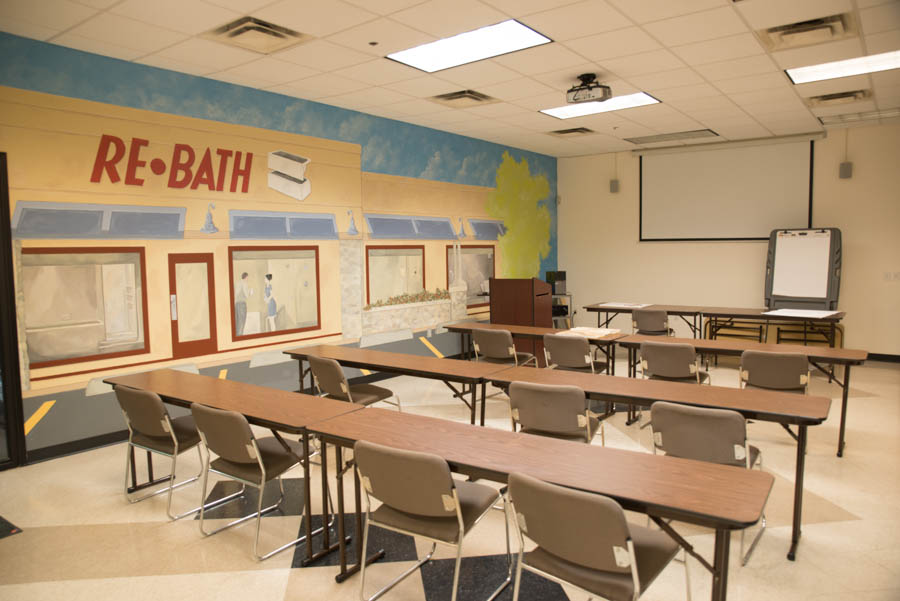 Training, streamlined systems help remodeling franchises hit the ground running
Starting a business and remodeling a bathroom can each be overwhelming propositions, but Re-Bath makes both processes easier. We help franchisees build the business of their dreams to provide our clients with the bathrooms of their dreams.
Our training and support structure introduces our systems over a period of 12 months, ensuring that you continue to learn and grow as you launch your remodeling franchise, rather than facing a short-term onslaught of overwhelming information. The onboarding training also provides the opportunity to learn from and with a group of peers.
Ongoing support for continued success
Ongoing training and support ensure that Re-Bath continues to play a role in helping franchisees succeed beyond the initial startup. We have webinars and training modules developed by subject matter experts who are available to you if you have any questions or run into any issues. We also make sure each franchisee's employees get the best training in the industry. We have developed a comprehensive certification program for installers to ensure that your employees are qualified to install every single one of our product offerings.
The Re-Bath corporate team is extremely accessible and makes frequent visits to our bathroom remodeling franchise owners. Over the course of a year, our franchisees have several opportunities to train and learn best practices from their peer group, as well as from us. We also offer two sales summits a year, as well as one training session a month for installations at our corporate headquarters in Tempe, Arizona.
Re-Bath offers franchises a competitive advantage
We are an ideal franchise opportunity for current contractors who want to be part of a larger network of owners. You'll still be your own boss; we provide support, but you own your local business, and we offer low startup costs for those contractors who want to convert their existing business to Re-Bath.
Re-Bath's streamlined systems and high-quality, proprietary products give our franchisees a built-in competitive advantage right from the start. They also make it easier to get up and running by applying the franchisees' talents to our efficient, proven systems, taking their businesses to an even greater level than they can achieve as an independent contractor.
Our brand recognition and corporate support make marketing easier, too. Franchisees have access to marketing tools that drive significant lead flow, and sales training that increases the percentage of leads that become sales.
Learn more about the opportunity
To receive a specific estimate on how much it would cost to convert your contracting business to a Re-Bath remodeling franchise, please fill out the no-obligation form. We will be in touch as soon as possible. We look forward to hearing from you!