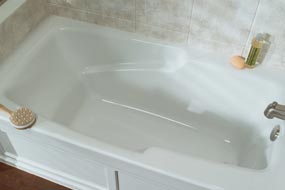 Re-Bath, America's premier bathroom remodeling franchise, is seeking individuals who have a passion for renovation and an entrepreneurial spirit to help make their effortless design to done bathroom remodeling process accessible to millions of potential new customers.
Does that sound like you? If so, Re-Bath may be your perfect franchise fit.
As far as research goes, they've done the heavy lifting for you eliminating common risk factors such as identifying target locations, buying power, brand recognition, as well as putting world-class training and support programs, valuable vendor partnerships, and a quality product line at the fingertips of all franchise owners.
The benefits don't stop there. Once a Re-Bath business has been awarded, that territory is exclusive to the owner. Re-Bath territories are large in scale, and based on total population of a group of zip codes or counties. Having the exclusive rights to Re-Bath's extensive product line gives franchise owners significant advantages in the market allowing them access to a larger number of potential remodeling jobs.
Re-Bath isn't just interested in selling franchises. They're determined to set owners up for success and have done significant research into what geographic areas they believe have the most earning potential for 2017 and beyond. Specifically, their research indicates that showrooms placed in territories with a population between 750,000 to 1.5-million have the highest rate of success based on demographics supporting growth for remodeling. Re-Bath went a step further in their research and identified locations that have the largest number of aging homes as well as average homeowner income making the following areas ripe for opportunity; Seattle, Los Angeles, Cincinnati, Kansas City, Atlanta, and Portland. All of these cities have successfully rebounded from the real estate crash between 2006-2012, and contain a massive middle-class segment, which is Re-Bath's core targeted demographic. In this segment, Re-Bath's only competition are small-time general contractors who do not have the name recognition, corporate infrastructure, and access to trademarked products to compete. If you don't currently live in any of the above listed areas, don't be discouraged. Re-Bath currently has nearly 100 additional open markets and is determined to find the right individuals to help them grow.
Vice President of Franchise Development, Jeremy Wallace says "we are looking for people who have a passion for remodeling and running a successful business. We have owners that have come to us already owning a remodeling business and converting to a Re-Bath business as well
as owners who have a business background and want to get started in the remodeling industry."
Currently Re-Bath is charging a flat fee of $60,000 to purchase one of their highly qualified territories, and offers up to 80% financing of the fee at a competitive interest rate. That comes with help in nearly every aspect of the business for owners to maximize profitability; from training employees on proper install of all products, negotiating deals with trusted manufacturers, to helping franchisees affordably get the products they need for full bathroom remodeling jobs, Re-Bath is there every step of the way. No other remodeling franchise can touch these types of offerings, nor have over 1-million remodeling jobs under their belts to draw knowledge from.