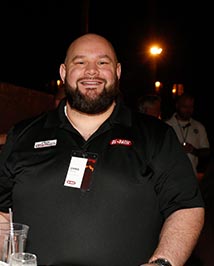 Tired of the brutal hours in restaurant management, Chris Bailey was looking for a career change in March of 2011.
He interviewed for Re-Bath of Alaska, and owner Randy Pratt hired him as a design consultant, which quickly evolved into a management position. When the opportunity in 2016 came up to purchase Re-Bath of Alaska from the Pratt family, Chris confidently made the investment based on his knowledge and years of experience as a loyal Re-Bath employee. Chris officially became Re-Bath of Alaska's new owner in January of this year.​
Here's what Chris had to say about his experience with Re-Bath.
How did Re-Bath compare to the other franchises you were considering?
"After spending years in the industry, I knew that Re-Bath was the best franchise option around. I didn't consider going with anyone else. They have the best products with the highest grades when it comes to acrylic on the the market. The warranties they offer customers, paired with the training and support offered by the corporate office can't be competed with, and there was no reason for me to look elsewhere."
What would be your advice to someone who's considering purchasing a Re-Bath franchise?
"Do your due diligence in checking out your market. Take the time to properly train and follow the sales systems that corporation has in place, and do not be afraid of marketing. You need to make sure the customers know you're there."
What would your top three tips be to someone who just purchased a Re-Bath franchise?
"The first would be to make sure you have a great location and showroom. Second, hire, train, manage the right people, and be sure you show your appreciation to them. Finally, always listen to the customer's needs and concerns."
How does Re-Bath set you and your employees up for success?
"Re-Bath has exceptional products and service and provides excellent support and training. Re-Bath partners with well known companies like Moen, Avaire, and Bertch that offer stylish and long lasting products. Those partnerships allow owners to pass along additional savings to customers, making them very happy. Re-Bath always seems to go the extra mile and is friendly while doing it. Anytime we've run into an issue where we had to contact the corporate office, they've always answered the phone and assisted us."
What would you consider the three most valuable assets Re-Bath equips their franchisees with?
"The first thing that comes to my mind is the fact that even though we're a 'local' company, we're partnered with, and backed by a large corporation who is there to support and provide you with design and marketing tools. The second is the quality products, materials, and tools, and the training on how to use them. The third would be their vendor partnerships which enables owners to offer great price points to customers. This, along with the fact that there really is no other competition in the mid-range bathroom remodeling market, allows franchisees to survive, even in a down economy."