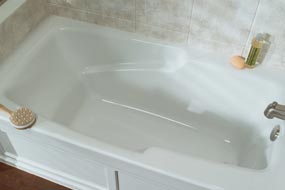 Nobody makes bathroom renovation dreams come true faster and more efficiently than Re-Bath. Their exceptional dedication to service, robust quality product line, and attention to detail has been the backbone of their brand dating back to when they first opened in 1979.
Convenient and easy design process
Re-Bath's core value of putting the customer's needs first is evident from the moment they contact any of our stores. Once an appointment is set, a Re-Bath Design Consultant goes to the customer's home equipped with the knowledge and tools to help customers design the bathroom of their dreams. The process includes understanding the homeowner's design, functional, or safety needs. Once it's determined what type of bathroom model is required, highly trained design consultants walk customers through a convenient product selection process. By the time the consult appointment is done your client will know the exact scope of the project and precisely how much it's going to cost them. This process not only benefits the client, but also benefits you as a Re-Bath franchisee, allowing healthy profit margins on every job. Fun fact: Re-Bath franchisees on average generate 20x more revenue than the average remodeling contractor.
Not only is re-bath fast, they're affordable
Due to the one-two punch of owning their own top of the line products and partnering with some of the nation's most recognizable brands, they're able to offer the industry's best products at the lowest possible cost to our consumers. Competitors, and especially independent contractors, can't touch their pricing. Their quotes are fair, easy to understand, and they stand by brand warranties. Re-Bath also offers flexible financing options.That's a true competitive advantage.
Installers you know and trust
Re-Bath handles all aspects of the installation process personally. As a franchise system, they provide a certified installation training program to train all installers. Staff will all undergo their rigorous certification programs both in customer service, and in working with our products. Customers can rest assured that they will know exactly who is coming in and out of their homes during their Re-Bath remodel. The specialization in remove and replace remodeling enables them to provide customers with a complete makeover within days, with the least amount of disruption to their lives as possible, ultimately providing the customer with a service that starts and ends with Re-Bath.
For more information, please fill out our form. You'll be glad you did.