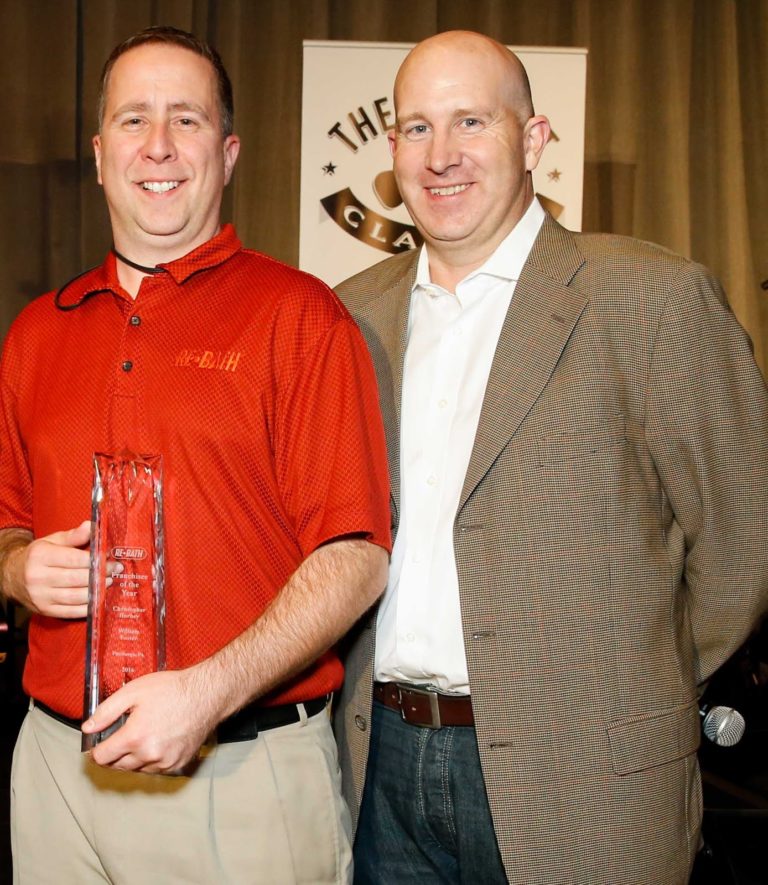 Re-Bath, America's largest complete bathroom remodeling franchise, celebrating 38 years in the bathroom remodeling industry, is pleased to share Chris Horney's success story as a multi-unit franchise owner. Horney's three Re-Bath locations are part of the 150 cities served by Re-Bath nationwide. Horney owns Re-Bath locations in Pittsburgh, PA, Cleveland and Columbus, OH.
Chris Horney began his career in the remodeling industry 15 years ago as a home builder and remodeler. As the financing options became more challenging in 2009, Chris saw the need to reinvent his company to rely less on the banking and real estate industry for income. Re-Bath was the solution as it was obtainable to enter the industry but provided the profit margins necessary to not only survive during the recession but grow and prosper. He evaluated other franchise options but Re-Bath's industry reputation, innovative product offerings, and competitive pricing could not be beat. Chris Horney first opened a Re-Bath location in Washington, PA in 2009. He then expanded into the Pittsburgh, PA market in 2011 and went on to open locations in Cleveland, OH in 2013 and Columbus, OH in 2015.
Chris Horney enjoys providing bathroom solutions for his clients that are both functional and stylish. Whether clients are looking for the latest trends, bathroom repair or accessibility updates, Chris and his team look forward to serving them. "We focus more on the solutions for people that need help and less on a few spectacular high design projects that only help a few," added Horney. "We are the proudest when we enable people to stay in their home longer and give them the ability to live more comfortably where they want to be."
In addition to Re-Bath's innovative product offerings, the corporate level support assists owners with marketing, customer management and training resources. "Re-Bath lays out the path of success for franchise owners simply with their strong brand image that clients recognize," shared Horney. "The corporate marketing resources help get customers in the store and then our highly trained consultants are able to provide personalized plans to fit a client's wants and needs."
Re-Bath has increasingly provided innovation to franchisees to anticipate and meet the needs in the bathroom remodeling industry. Functional products for aging clients, state-of-the-art functionality in bathroom fixtures, and low maintenance designs are just a few facets that clients can expect from Re-Bath. "Re-Bath has easily allowed my company to succeed and grow in the bathroom remodeling industry and they can do the same for any aspiring business owner," added Horney. "I take pride in the work that we've been able to accomplish with the support of Re-Bath and look forward to the years to come!"
Celebrating 38 years in the bathroom remodeling industry, Re-Bath understands the needs of their franchisees by providing exceptional resources to help attract and support customers in their respective markets. The company is actively looking for committed owners who can thrive in the Re-Bath franchise network. Visit here to review available markets and learn more about the company's franchise opportunity. Recently, Re-Bath launched their new website www.rebath.com detailing before and after projects, testimonials and a 56-page resource e-Magazine named "Effortless", http://www.rebath.com/online-magazine/ to help homeowners learn the latest trends, hottest colors, products and techniques that are being used today. Re-Bath encourages homeowners to take advantage of these free tools in addition to receiving a free in-home consultation with their local Re-Bath design consultant to help them with planning their next bathroom project.