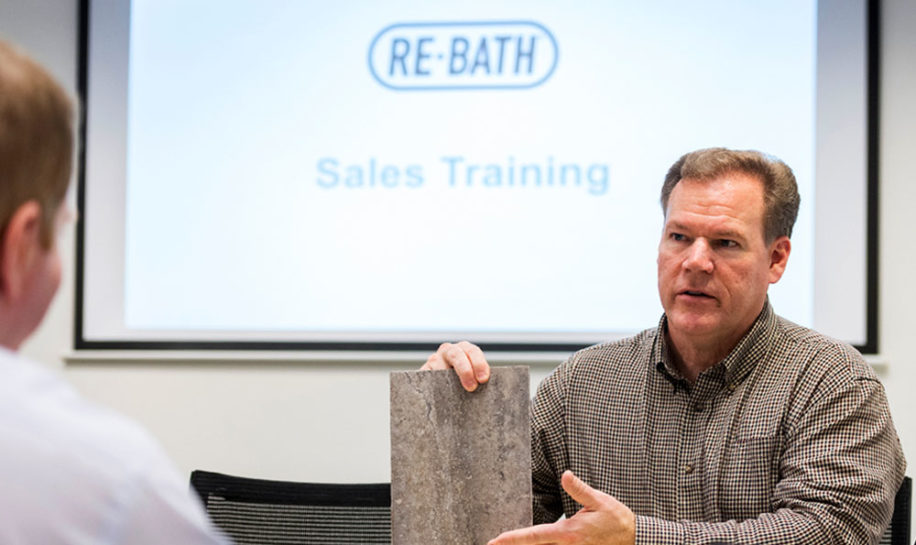 As bathroom remodeling business owners, Re-Bath franchisees are at the helm of a home improvement brand that promises pristine customer service and product perfection. But if you're worried your lack of remodeling experience would disqualify you from our opportunity, that's not how we operate. Remodeling skills might be helpful, but we'll teach you everything you need to know.
Much more important to your success as a Re-Bath franchisee are the traits that make you a great business owner. And we're willing to bet you've already got some of the most important ones.
1. Passion
More than any other trait, passion makes or breaks a business owner's ability to succeed. Everyone has hobbies or activities that fuel their passion, that get them excited for the day and encourage them to look ahead with positivity. But business owners focus that passion on running and growing their business. If you're not excited about tackling your task list every day and meeting challenges with enthusiasm, owning a Re-Bath franchise might not be for you.
2. Management
Strong management and organizational skills in all aspects of life are must-haves for business owners. The ability to manage your time ensures you stay on top of a schedule, complete jobs on time, pay bills on time and know how much time and value to dedicate to each of your to-dos. Good budget management means you'll be able to keep track of revenue and keep your books balanced. And your general business management skills help you keep up with clients and orders, foster strong relationships with your crew, and maximize efficiency.
3. Dedication
Owning a franchise means being dedicated to a proven, working system. It means being dedicated to helping your crew and fellow franchisees succeed. It means being determined to improve, innovate and ensure the best customer service and best possible products each and every time.
When you jump into a franchise ownership role, you have to be ready to work with a team of experts who can help steer you in the best direction and to trust their insight. Your dedication will make it easier for you to learn and love our strong operational system.
4. Personability
You've heard it before: communication is key. It's no different as a franchisee. The art of clear, meaningful communication rules the day when it comes to customer service, setting schedules and closing deals. Maintaining strong client relationships can lead to repeat customers and crucial referrals.
Plus, ensuring an open line of communication between yourself and your team helps keep everyone motivated, working efficiently and working together as a team. Staying personable and professional goes a long way in establishing trust between you, your employees, your customers and your brand.
It takes more than a remodeling expert to fit perfectly into our growing family of franchisees. That's why, when we're searching for the best candidates to invest in our system, we search for people with the traits of a great entrepreneur above all else. You can learn more about what it takes to join our system here.