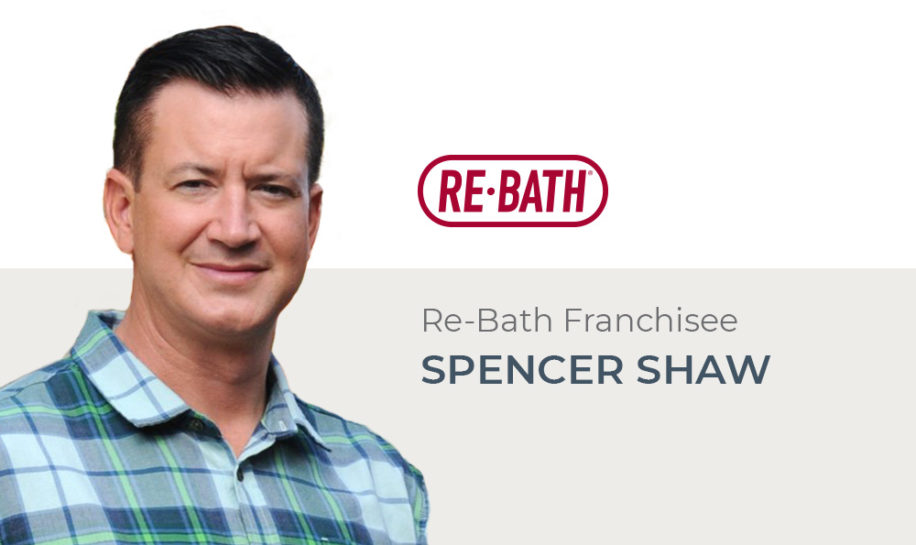 At Re-Bath, besides providing our customers beautifully remodeled bathrooms at affordable prices, franchisee satisfaction is one of our top priorities. And every so often we're lucky to hear stories from our franchisees that reassure us we're doing our job right.
Meet Re-Bath franchisee Spencer Shaw.
After graduating from the University of Idaho with a B.S. in Environmental Engineering in 1999, Spencer spent four years at an architectural and engineering firm. His work there gave him the opportunity to travel throughout the American west, getting to know the different places and people that populate the intermountain west.
But he wanted to settle down. He was young and wanted to start a family while he still had the energy to raise kids and the travel demands of his job were keeping him from that goal. On his own, he began looking into the possibilities of entrepreneurship, hoping to find a career that would allow him to work for himself and give him the freedom to make his own schedule, stay in one place and give him the time he needed to attend to his goals of being a husband and father.
Balancing family goals with career goals.
He started looking around the Boise area for businesses for sale and found Re-Bath through the franchise and business coaching platform The Entrepreneur's Source. Since he had a bit of background in construction – and had the opportunity to speak with other Re-Bath franchisees who had great things to say about their experience with the company – he felt confident that Re-Bath was the best bang for his investment buck. He felt comfortable that he would see a viable return.
Business is booming.
So, in October of 2005, Spencer bought into his first Re-Bath franchise as one of the youngest franchisees in the Re-Bath system at the time – he was still in his late 20s. He invested in a showroom in Boise and then expanded to a second showroom in Spokane, Washington in 2009. Now, at 41, he's the established owner of two successful bathroom remodeling businesses. He reports that his sales are coming up on eight consecutive years of growth since 2010. Back then, he says, sales were at $1.2 million. Now his two franchise locations together will be making $6 million by the end of 2018.
Spencer attributes much of the success of his Re-Bath locations to creating an environment where his 28 employees enjoy the business and enjoy the work they do. He values his employees and knows that in order for his business to grow, he has to keep them on his team. So, he makes sure to pay them well – more than his peers do – and has slowly added on benefits and bonuses whenever possible.
The future looks bright.
The decision to become a business owner has given Spencer the work-life balance to achieve his goal of raising a family. Today, he's married with two kids, aged 14 and 11. He has enough confidence in his well-trained team for him – and them – to take time off to recharge and enjoy what's most important in life.
Spencer's goal as a Re-Bath owner has been to continue to grow the business by a minimum of 10 percent each year. Recently, the strong economy and marketing and advertising efforts have led to growth closer to about 25 percent. He says that in the next 10 years or so he's looking to expand – he's already got his eye on the Portland, OR market for next year and maybe Seattle, WA after that. And If he keeps doing what he's doing, we have no doubt he'll make it happen.
Interested in seeing how you fit into the Re-Bath family? Let us know!