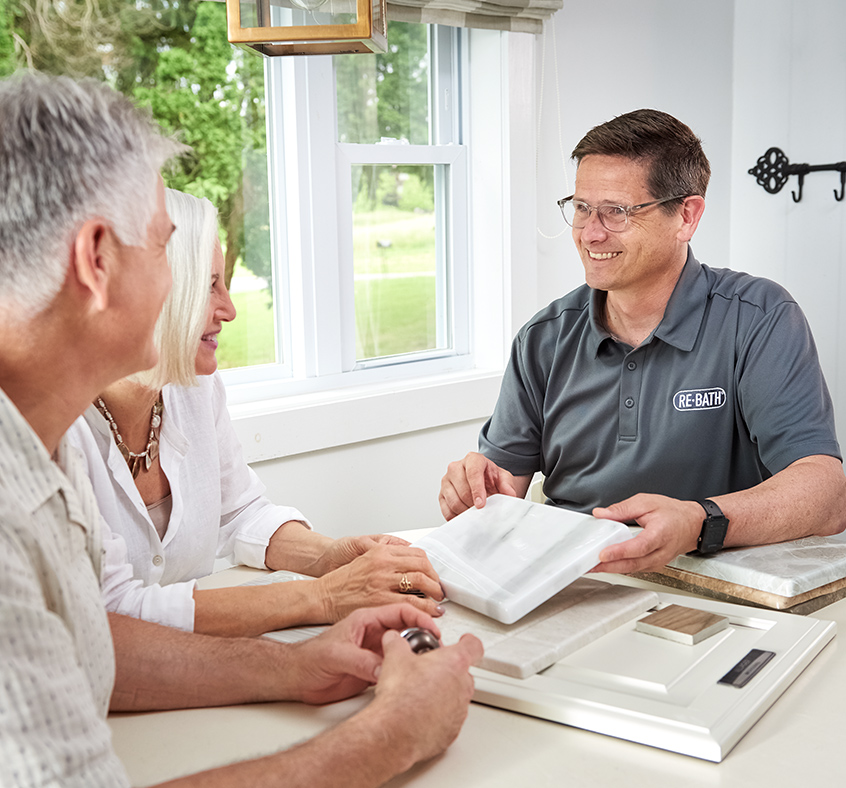 Anyone familiar with home remodeling, renovation or contracting work knows competition can be stiff – but Re-Bath franchise owners know our proven system gives them a powerful leg-up against their independent contractor competitors. Here are just four ways our model is designed to run circles around the competition:
1. Marketing advantage
Our franchisees benefit from the scale of our system. We serve 43 states and over 150 cities nationwide, and can take advantage of a growing marketing fund to produce beautiful, high-quality marketing materials at both the local and national levels, putting us leagues ahead of the independent contractors we share market areas with.
This way, our customers see a consistent brand no matter where they go, making word-of-mouth organic marketing even more effective. Customers will also hear about us online, on TV, in print and on our website. And our franchisees can rely on extensive and careful market research and marketing plans to keep the customers coming.
2. Product advantage
Re-Bath products are renowned for their quality. That's because what we don't make ourselves, we get from the nation's top home décor and home improvement retailers and manufacturers – companies like The Home Depot, Moen®, Bertch®, Avaire and Arizona Shower Doors. Not to mention our exclusive DuraBath™ products including premium wall surrounds and walk-in tubs.
Our customers get the highest-quality bathroom products on the market, and our franchisees can provide them at lower purchasing costs than just about anywhere else in the industry.
3. Selling advantage
On average, our franchisees see both higher close rates and higher sales numbers than is typical for the industry. How? We work with each of our franchisees as soon as they join the Re-Bath family to ensure they have the tools and training they need to make the most of their business. We've got an exclusive sales process that complements our franchisees' existing passion for business, setting them up to reap the benefits of their hard work. Plus, our exclusive back-of-house CRM system makes tracking jobs and keeping up with new and existing clients a cinch.
4. Support & training
That training we mentioned? We're not kidding. Our franchisees each receive three weeks of onboarding and training at our headquarters in beautiful Phoenix, Arizona, where they learn the ins and outs of the bathroom remodeling industry and get the tools and information they'll need to meet the demands of running their own business.
In addition, our franchisees receive ongoing, industry-leading support from day one that they can rely on throughout their ownership journey. Our expert teams guide franchisees through the site selection, real estate and construction processes, the development of marketing plans, and general business management to ensure they have the best chances of success.
We've been in this business since the '70s and franchising our concept since 1991. We've built our reputation as America's premier bathroom remodeling franchise by being the absolute best at what we do, growing and capitalizing on our expertise in bathroom repair, redesign and renovation. And we've gotten our system down to a science through innovating and optimizing our processes and passing what we know on to all the franchisees that join our system.