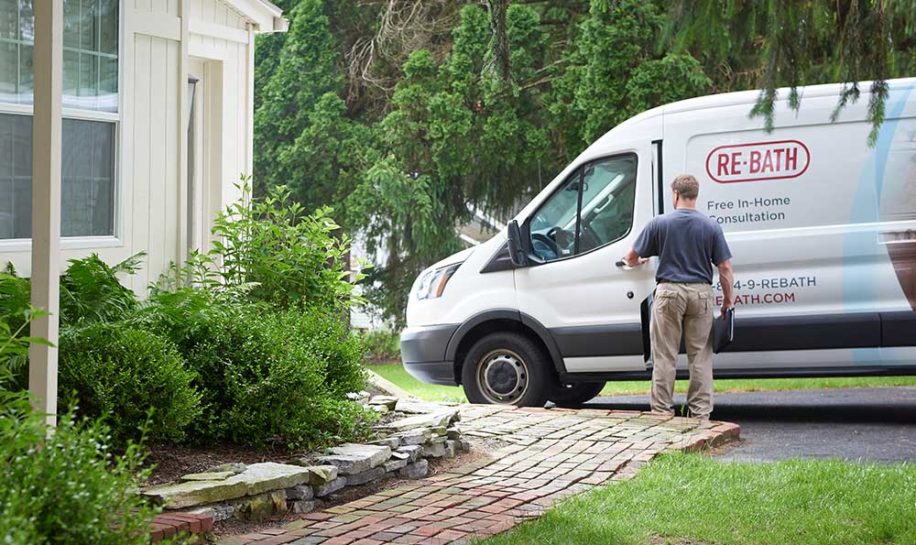 If you're considering owning your own business in the home remodeling or home renovation industries, it's a good idea to keep your eye on trends and changes in the industry. At Re-Bath, we've got four decades of industry expertise, a nationwide reach in over 150 cities, and plenty of research and development so that we can keep an eye on it for you. As 2018 starts to draw to a close, we like what we're seeing – and we think you will, too.
The home remodeling industry is on the rise.
Thanks in part to the endless inspiration provided by countless TV shows on networks like DIY and HGTV, as well as a plethora of online resources, the always-steady home remodeling industry is now more popular than ever – and showing no signs of slowing. With reports showing that up to 76% of Americans would prefer to renovate rather than spending on a new home, the industry has been valued at over $340 billion, with a projected 11% increase in national residential remodels by 2020* – that's a lot of spackle and grout. And that's not all.
Harvard has some thoughts on the matter.
According to a recent Harvard University study, home remodeling spending is up 6% and at least 2% growth per year is expected through 2025. That'll be a steady trend of growth that, in part, we can thank younger consumers for: the study also notes that millennials are buying older homes that need remodeling because it's more affordable, and spending about 16% more than the national average on remodeling those homes.
And – a plus for bathroom remodeling specialists – discretionary remodels like bathrooms currently make up over 30% of remodeling spending. In fact, analysts have predicted bathroom remodels alone will reach $5.16M by the end of this year**.
And the numbers keep coming.
AARP 2018 Home and Community Preferences Survey also adds interesting data to the equation. The study, which surveyed adults over the age of 18, paints a picture of the way the growing segment of senior care could affect the home remodeling industry. According to the survey, 76% of Americans over 50 would prefer to age in place, staying in their current residence as long as possible.
And since they plan to stay in their homes, about 34% of adults expect to have to make repairs or modifications to their homes to accommodate their own needs or the needs of their loved ones as they age. And what's more: of those who believe they'll make those home improvements, 71% believe they'll need to modify their bathrooms with walk-in tubs or shower grab bars to accommodate aging loved ones.
These numbers make an impressive case for the future of the industry. If you're thinking about getting your feet wet in the home remodeling industry – don't hesitate. The industry is massive and showing strong signs of continued growth. Consider owning a franchise with the bathroom remodeling industry's most dominant player.
*Metrostudy, RRI Report, July 2017
**Metrostudy, RRI Report, August 2016