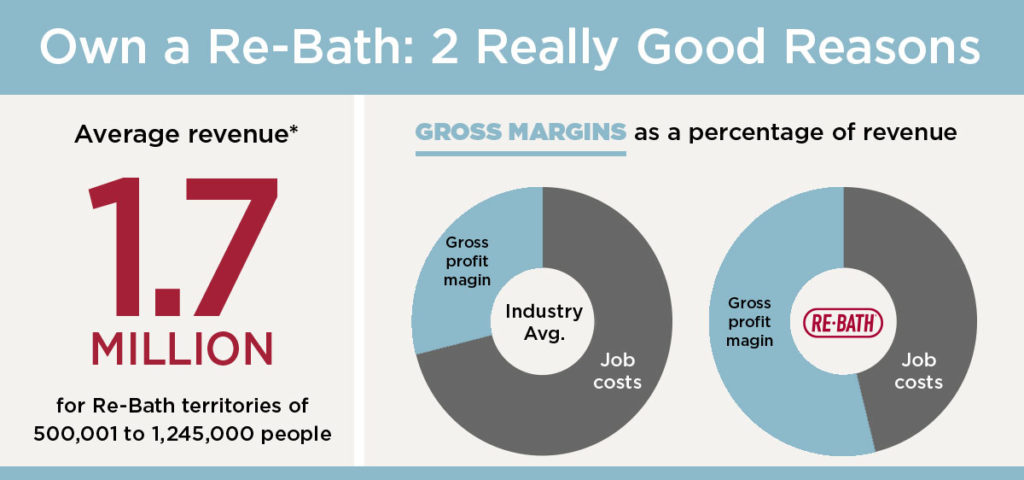 As you research franchise opportunities, you'll obviously want to find a business that you'll enjoy owning. You'll want to be part of a team that is headed in a clear, positive direction. But you'll also want to know that the opportunity is rooted in a solid track record of success.
These two numbers tend to get people's attention, and make it clear that Re-Bath is worthy of serious consideration:
Notes
Keep in mind that these are system-wide averages. A new franchisee's results may differ from the results stated herein.
Revenue figures: Eleven units, or 34% of the units in the 500,001-to-1.25 million territory size, equaled or exceeded these sales. The median revenue for this territory size was $1.59 million. Revenue figures for other territory sizes are available in the downloadable Re-Bath Business Model eBook and in Re-Bath's Franchise Disclosure Document (FDD).
Gross profit margins: According to a 2017 industry survey by the National Association of Home Builders, the average full-time remodeling company generated a gross profit margin of 28.9%.
As shown in our 2019 FDD, Re-Bath territories with populations of 1.25-to-2.5 million had an average gross profit margin of 52.7% in 2018, and territories with populations over 2.5 million had an average gross profit margin of 53.1% in 2018. Re-Bath territories with populations under 500,000 had an average gross profit margin of 50.1% in 2018.
Learn more
If you find these numbers intriguing, we invite you to fill out a form to download Re-Bath's Business Model eBook. The report provides an overview of the remodeling industry and an analysis of the competitive landscape. See how Re-Bath has worked with franchisees to build the nation's largest bathroom remodeling franchise, and how our systems and support help Re-Bath owners win customers and scale up their businesses.