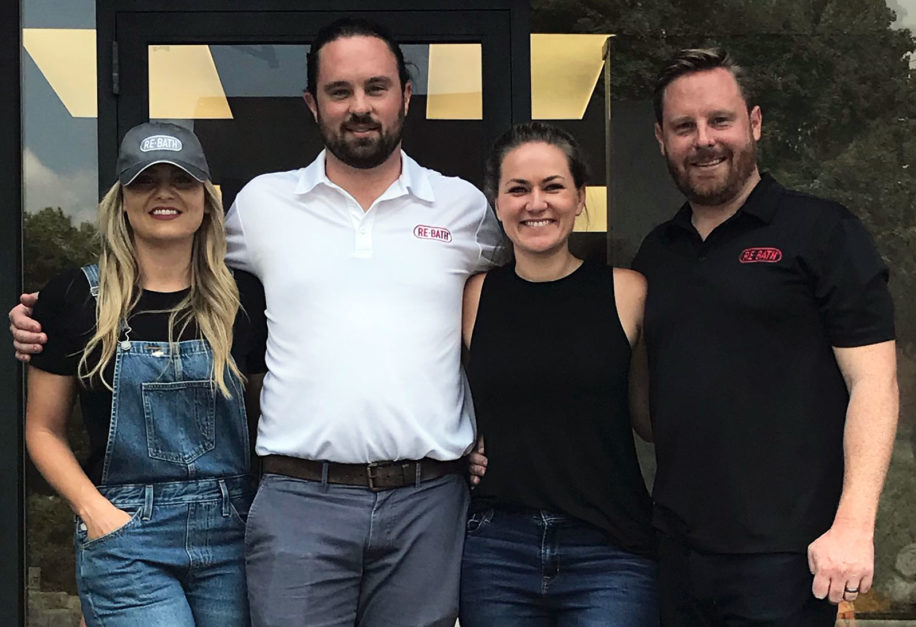 Maddie Johnson, Hunter Johnson, Leigh Johnson, and Chase Johnson.
Entrepreneurial brothers Chase and Hunter Johnson open their first Re-Bath in Marietta, Georgia.
New Re-Bath remodeling franchise owners Hunter and Chase Johnson have spent half their lives in the real estate and renovation industry. Which is kind of stunning when you realize that the brothers are, respectively, 31 and 29.
Chase started investing in real estate when he was 15, buying his first house in Atlanta as a rental property. Two years later, when Chase was 17 and Hunter was 14, they flipped their first house together.
They credit their father, Woody, with instilling an entrepreneurial spirit. Woody Johnson has owned several businesses, most prominently a commercial real estate property management called Southeast Properties.
"He has always wanted us to work for ourselves and figure out different ways to make money," says Hunter. "And he taught us a lot about home renovation, and we had worked on several houses with him."
After graduating from college, Hunter took a job assessing buildings for an insurance surveying company and building risk assessments. He also kept flipping houses on the side. Chase, meanwhile, worked in sales and marketing, and also spent time as a commercial real estate broker.
After several years in the corporate world, they were ready to own their own business together. They discovered Re-Bath by attending a conference where Re-Bath CEO Brad Hiller was one of the speakers. "That sparked our interest," Chase says.
The brothers opened their Re-Bath in Marietta, Georgia, in July, and just had their grand opening on Sept. 7. We spoke with them before their grand opening about their decision to become Re-Bath owners, and what they've learned about the business so far.
When you learned about Re-Bath, what made it stand out as an opportunity?
Chase:When we started researching them, we liked the product, we liked the warranties, and we liked the people.
We stopped by a couple of different Re-Baths and spoke with the franchisees, and visited the headquarters in Phoenix to meet with the C-suite people out there. We just really liked what they were doing and the direction they were heading. They really have kind of taken it, over the last nine years or so, from just a company that provides contractors products to install and into a company that is establishing a national brand and a really special thing in the marketplace.
Hunter:Because what we knew was that there's a ton of mom-and-pops out there doing general contracting, but there wasn't really a company customers could turn to for simple, hassle-free and affordable bathroom remodel. That's what really drew us.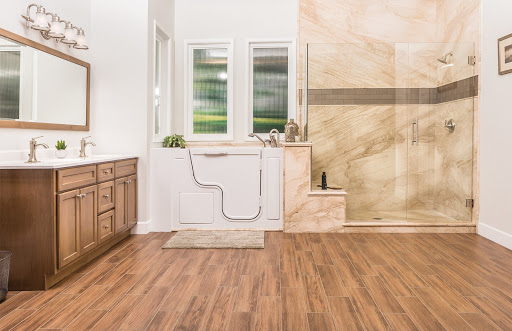 How are you dividing up the responsibilities in the business?
Chase: I am doing the sales and marketing side of things. That's been my background since I got out of college. I was in logistics sales for a few years, and then I was in commercial real estate brokerage for 6 years. And so that's kind of my role — just drumming up leads, meeting with clients, sitting with clients to help design their bathrooms. Hunter is in charge of operations. Right now he is doing the install. As we grow and bring on a team, he will make sure they have their assignments for the day and everything that is entailed with that.
Where have your first customers been coming from?
Chase: It's really just pounding pavement. We've been marketing heavily online and have been getting inquiries off that. We also have a neighboring franchisee who sometimes gets calls from homeowners who are in our territory, and they have been great about passing those inquiries along. And anytime we get something that's supposed to go to them, we'll send it on over.
Hunter: Jordan and Levin Wood, who own that franchise in Milledgeville, are just fantastic people, so they've truly been lifesavers to us. I mean, from getting guidance on pricing projects to just them letting me come down and work with them a couple of days, they have been incredible. They have a general manager who acts as their head of operations, and I spent one day with him in the field and another day with him in the office seeing how they fill out orders and manage their team. So, yeah, they've been awesome to work with and anytime we have any questions, they're more than willing to help us.
In general, what's it been like getting the business up to speed?
Chase:I think overall it's just been a learning curve for us because while, you know, we've always done businesses on the side — I've been an independent contractor — it's very different when you're the owner of the company. So, it has definitely been a learning curve and realizing you've got to stay on top of people, you've got to make sure that you are following up with people daily. It's about adjusting from being a sales guy or an installer to being an owner. It's been an adjustment but we're getting through it, and we like it.
What kind of support have you received?
Chase:The corporate team has been really great at teaching you how to install the product and making sure that you are ready to launch with your sales — memorizing the sales script and training. And the franchisees in this organization are amazing. They're really great — I cannot sing their praises enough. We've learned from franchisees in Texas about how they pay their employees, to Jordan and Levi Wood who helped us establish our pricing, to Jeb in Louisiana who helped me review and understand the sales kit, to Nick Falletta in Virginia who showed us how to make a bench that a customer wanted that's not a standard product Re-Bath offers.
Why are customers choosing you, and how do you expect to stand out in the market?
Chase: One of the things that I've seen when I've gone into people's homes is that a lot of people just get stuck. They want to redo their bathroom, but the typical remodeling process is overwhelming and time-consuming, and people just don't do it. Because when you do get into it, it's literally every choice has at least eight additional choices. You know, you've got to pick a faucet. "Well, what type of faucet do you want, and what color, and what finish, and how will it fit with the rest of the room?"
What I think we bring when we meet with customers is clarity. We have really broken it down into a very easy-to-manage process that allows customers to choose their remodeling options in 30 minutes to an hour, rather than driving from showroom to showroom looking at all kinds of surfaces, lights, floors and fixtures.
Hunter: We're giving them a product that is incredibly durable, incredibly easy to clean and it's got a great warranty on it. We're quick and reliable. I recently met with a woman who had hired an independent contractor to remodel her bathroom two years ago, and he never finished it. She'd been living with a half-finished bathroom for two years. When I see stuff like that, it makes me sad that there are people out there that are pretty crappy and they do half the job and then leave the customer holding the bag. So if we can save people time and money up front, and they deliver them a better bathroom with minimal disruption in their home, and can throw a great warranty on top of that? It really helps us stand out.
The other advantage is that we handle it all. Usually, a homeowner has to buy all the products and installation hardware themselves, and the contractor shows up and assembles it. Well, that homeowner isn't a contractor, and they don't always know exactly what they need for every part of the remodeling project. So either they or the contractor has to run to the hardware store — often more than once — to pick up items. That causes delays, drives up the cost of the project, and makes it so projects take longer to get done. We bring everything we need with us, and handle the whole thing.
What is your goal for the business?
Hunter: We want to be the bathroom remodeler of Cobb County. We want to be the one that people think of first when they think "bathroom remodeler." So we want to be big. We want to be professional. We want to be known as the guys that are …
Chase: … known for coming, getting it done fast and doing it right.
Hunter: Right. And then we want customers to have a wonderful experience. That's so important. I'd love to be the Chick-fil-A of bathroom remodelers to be quite honest. Just excellent customer service.
Do you have any advice for the next new Re-Bath franchisee?
Hunter: Yeah, make sure to get started early to get any licenses required in your county and state. Get that process started as early as possible because the government is sloooooow.
Interested in becoming a Re-Bath owner?
Fill out our form to download our Business Model eBook. It contains details about the industry and how Re-Bath's business model helps owners stand out from competitors. The report also includes a detailed look at financial performance, startup costs, and support available to franchisees.