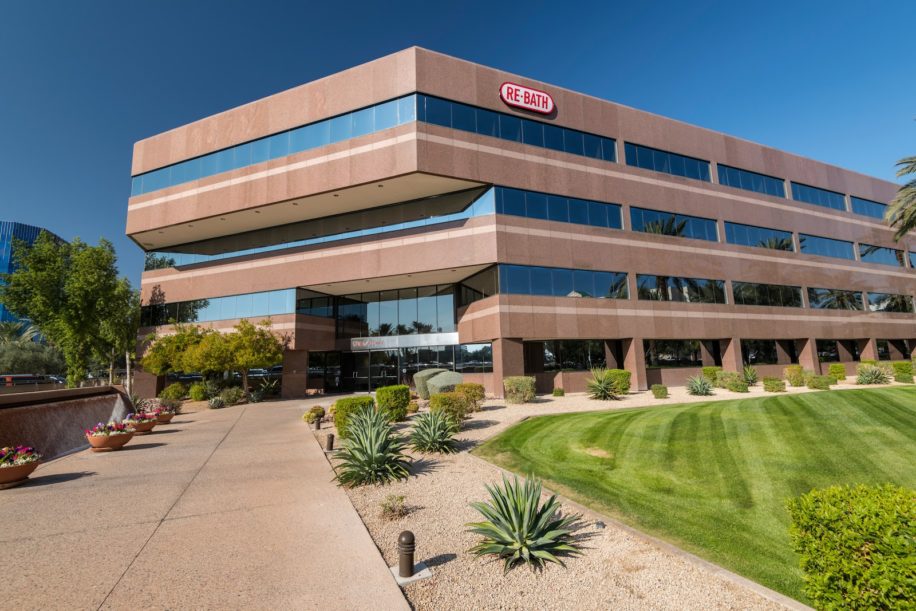 The coronavirus has had a big impact on remodelers. You can leverage our brand, people, and resources to bounce back.
These are incredibly difficult times for entrepreneurs as we work to protect ourselves, our families, our communities, our employees, and our businesses from the impact of the Covid-19 virus.
There are two challenges all of us have: How to hold onto as much business as we can during this disruption, and how to rebuild our revenues once social distancing guidelines are lifted.
How Re-Bath is managing the coronavirus disruption
Re-Bath franchisees have not been immune to the disruption. So now, in addition to regular weekly email communications with franchisees, we are using weekly webinars hosted by our CEO to discuss strategies and tactics for managing their businesses through the coronavirus disruption.
One example: With homeowners spending so much time indoors, they have plenty of time to think about how they'd like to change their bathroom. Normally, Re-Bath franchisees would visit the customer's home to see the space, listen to their goals, and suggest design options that match the customer's aesthetic tastes. In some states, home visits are not an option because of social distancing requirements; in other cases, homeowners are reluctant to have people visit their homes out of caution. In response to this changing environment, we have quickly pivoted to virtual consultations. We're using our existing marketing assets, image libraries, and digital resources to help franchisees continue to consult with customers — and keep their sales pipelines moving — even during this disruption. That way, we'll have plenty of projects to complete as soon as social distancing rules are relaxed.
Once you are ready to ramp up, there's going to be a major challenge. We can help you overcome it.
Many remodelers have seen their sales and project pipeline go completely dry over this spring and face the prospect of an empty pipeline for another month or two. Once the economy begins to re-open, you'll need to advertise heavily in order to refill your sales pipeline.
Unfortunately, every company in the U.S. is going to be doing the same thing, which will drive advertising rates sky high. This is made worse by the fact it's a presidential election year. With candidates and their supporters flooding the media landscape with hundreds of millions of dollars in advertising, it will be nearly impossible to buy ad space from late summer through fall. By joining Re-Bath, you can accelerate your rebuilding process by taking advantage of everything we're doing to build the brand.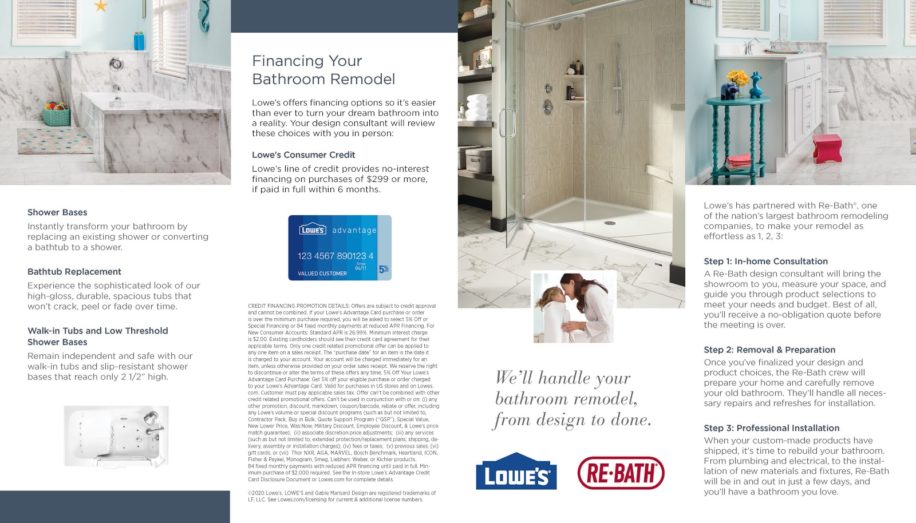 Re-Bath's partnership with Lowe's includes brochures and displays in Lowe's Home Improvement stores. Click to learn much more about our Lowe's National Partnership.
Re-Bath has been a national brand for three decades and uses national TV advertising, digital marketing strategies, email and direct mail to generate leads for franchisees. Local marketing is important too, and we provide marketing plans, materials, and benchmarking to help franchisees get the most of their efforts.
For now, we are focusing aggressively on digital marketing opportunities. With millions of Americans at home and spending many more hours than normal on their smartphones and laptops, it's a great time to reach them, show them what we can do, and drive them toward a conversation. Our goal is to have projects lined up and ready to go as soon as social distancing recommendations are relaxed.
Re-Bath is also National Service Partner for bathroom remodeling with Lowe's Home Improvement stores in the United States, which provides a powerful source of referrals for franchisees. As a Re-Bath franchisee, you would enjoy a protected territory. All of the Lowe's stores within that territory would be referring business to you.
Fundamental strengths of the Re-Bath business model
According to a 2017 industry survey by the National Association of Home Builders, the average full-time remodeling company generated a gross profit margin of 28.9%.
For Re-Bath remodeling franchise owners with territories of 500,000-1,249,999 people, the average gross profit margin in 2018 was 53.8% and the median was 51.1%. (Full details can be found in our Franchise Disclosure Document.)
Franchisees generate those results by leveraging:
a unique customer experience that vastly simplifies the remodeling process for customers
a sales- and marketing-focused business model in which the owner manages teams to drive growth
industry-leading startup training
continued post-opening learning opportunities
reliable product supply lines and purchasing power
exclusive business management software
Let's talk about what's next
Re-Bath has franchise territories available nationwide. You can learn more about our business by downloading our Business Model eBook or giving us a call at 888-454-8842. Good luck, stay safe, and stay strong.