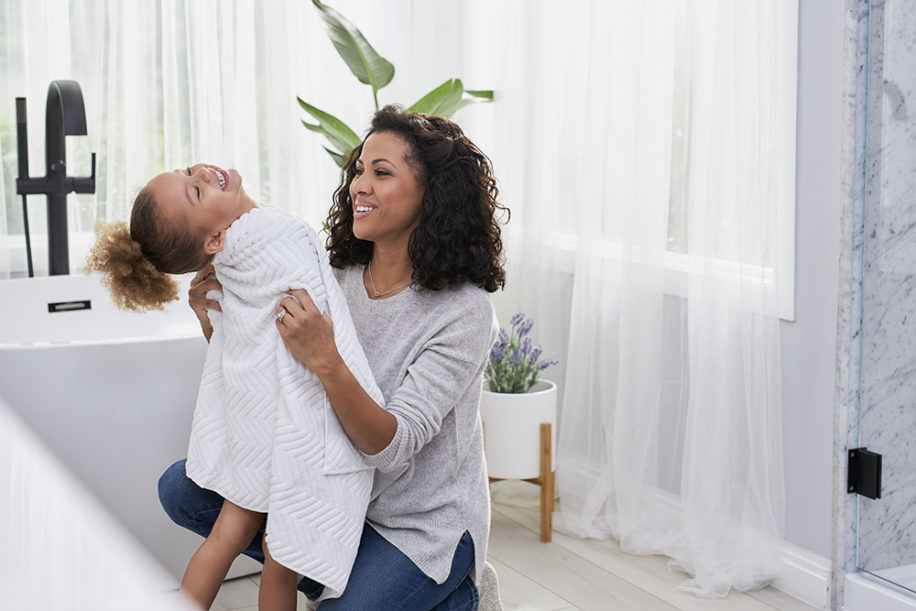 Re-Bath is one of the most trusted and well-recognized bathroom remodelers in the U.S. Over the course of 40 years, they have completed over 1 million bathroom remodels for customers around the country. For those who are looking to purchase a well-proven franchise, there are plenty of reasons to consider Re-Bath.
Understanding the Re-Bath Philosophy
There are two key strategies driving Re-Bath's success:
#1: A Comprehensive System Focused on the Customer
Re-Bath has created an efficient, effective customer journey. What makes it unique is that it follows the customer from their first advertising exposure to the product and service to after the job is complete. This provides incredible insight and opportunity for franchise owners to fully understand and manage the sales process.
#2: Its Partnership with Franchisees
In addition to having a robust customer journey process, Re-Bath works closely with its franchisees. They have a vested interest in mastering the system on a local level. While it is a national franchise and continues to grow, it is very much a locally focused organization and provides exceptional support.
One of the ways that Re-Bath makes sure it is a category-killer brand (and really, there are very few well-known names in this sector) is to focus on one job at a time. It focuses on one community at a time. The franchising model is by far the best model for delivering both of its strategies.
A Breakdown of the Re-Bath Process
For entrepreneurs looking at a Re-Bath franchise, there are a few key components to understand about how they operate.
Building Awareness
The Re-Bath customer journey begins with marketing to create awareness. This is done both at a national level and local level with ample support for franchisees. Through a brand fund, corporate develops national quality creative campaigns supported by consumer research for the local franchisees to deploy in their local markets. The brand builds awareness through numerous methods, including:
National TV Campaigns
National digital marketing and local digital marketing
Corporate run social media marketing programs and social media platforms for franchisees
TV ads for use in local market
Referrals from home improvement retail giants
This comprehensive approach allows for multiple connection points. More so, Re-Bath does an excellent job of omnichannel marketing, which enables it to have a clear, single message across all of its channels that consumers can relate to.
Excellent Reputation
A positive reputation is important because it helps build trust, authority, and credibility. Re-Bath prides themselves on the 4.7 rating we have from online reviews on sites including Google, Facebook, Houzz, BBB, YellowPages, Consumer Affairs, and more. This is a true testament to the customer experience we provide to each and every customer. Maintaining this high rating helps increase conversions online, especially through your Google Business Listings, ultimately leading to more sales.
Fast Consumer Response
Once awareness and reputation are established, Re-Bath ensures consumers receive fast responses to their request for an appointment. Professionals contact and set up appointments for consultations quickly. This helps to ensure in-home appointments can be made on a timely basis before consumers change their minds.
In-Home Consultations
Not only does the Re-Bath team come into the home to provide consultations, they do so at no charge. Free consultations like this enable consumers to gather information without risk. The Re-Bath designers schedule a consultation when it is convenient for the customer to be there. This often means evenings and weekends if necessary. The designers then listen intently to what the customer wants and the budget they have to work with for their project. From there, the designers work hard to give customers their dream bathroom on time and on their budget.
Custom Design and Sale
Once that information is obtained, the designers create renderings. This gives customers a very strong visual of what their new bath will look like, aiming to hit every one of their needs and resolve any problems or concerns they have.
Because Re-Bath specializes in removing and replacing fixtures and not a complete remodel, it is not common for Re-Bath to get involved in reworking more complex tasks such as electrical work or changing out any plumbing fixtures. That means it is less common for Re-Bath to have any cost overruns, long job times, higher costs, or unhappy customers.
Materials are Affordable
Re-Bath franchisees can order all of the products they need from the home office and through approved suppliers at a reasonable cost. This helps to ensure that they gain access to higher-than-average margins.
In most cases, Re-Bath franchises experience 47% gross margins, which is unlike the typical 30% margins most other remodeling contractors earn. That makes this franchise opportunity more lucrative.
Fast Job Times
The typical Re-Bath remodel takes 1 to 5 days. This quick turnarounds and minimal demolition work allows for a non-intrusive way for consumers to quickly update their bath without having a lot of downtime and inconvenience.
Installation
The Re-Bath installers are professionals and bathroom specialists. They work to quickly and efficiently replace old fixtures and don't create much dirt or debris through the process. There's far less hassle since demolition work is typically quite minimal.
Warranties and Support
Re-Bath follows up with the post-sale satisfaction communication and provides a warranty for its products in the case of manufacturer or installer error. That creates peace of mind consumers need.
Join our Team as a Re-Bath Franchisee
If you are a remodeling contractor looking to increase sales and profitability and want a sustainable and unique competitive edge, reach out to us. We want to partner with entrepreneurs like you who are looking for a high-growth business model that is built on long-term results.
Download the Re-Bath Franchise Model eBook now to learn more!