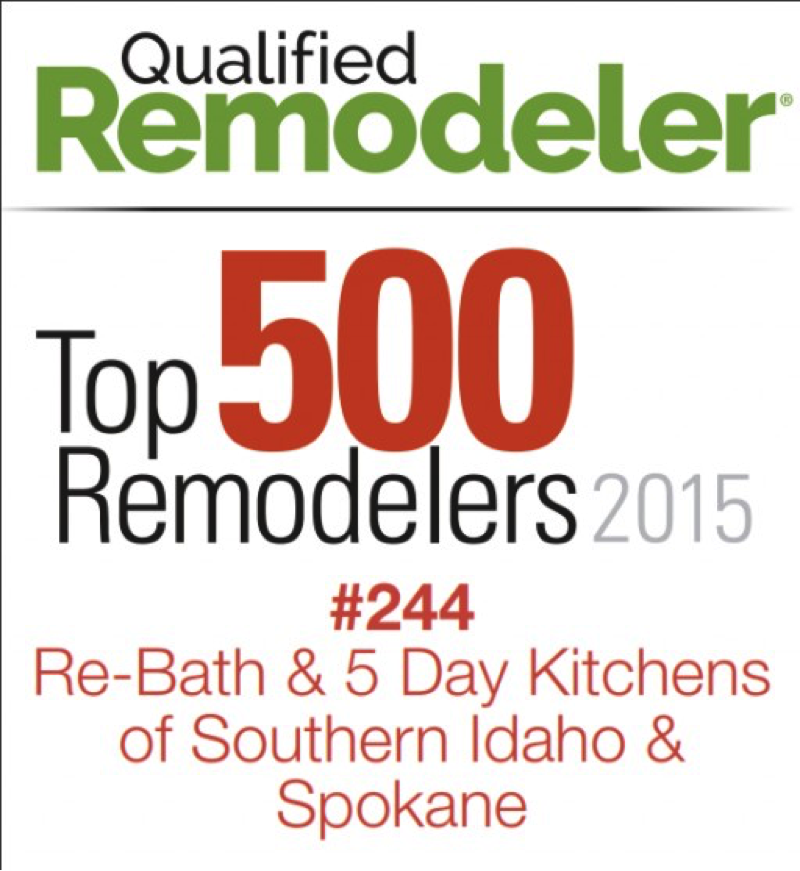 National publication includes Re-Bath bathroom remodeling franchise owner in prestigious annual list of nation's top remodelers
At Re-Bath, we believe that the success of our brand is the direct result of the success of our bathroom remodeling franchise owners. This is why we are very pleased to announce that Qualified Remodeler, an online publication dedicated to analyzing the remodeling industry, has named Idaho Bath Soutions, parent company of two Re-Bath franchise locations in Southern Idaho and Spokane, Washington, to its prestigious list of the "Top 500" remodelers in the country.
The publication's annual list surveys the remodeling landscape to determine the largest remodeling companies and ranks these companies according to a number of factors, including revenues and gross sales. Re-Bath franchisee Idaho Bath Solutions was ranked at No. 244, after earning $4,335,997 in gross sales and completing 437 remodeling jobs in 2014, according to a news release.
"It is our commitment to the customer experience and ultimately simplifying the challenges of bathroom remodeling that brought us to this level," says Spencer Shaw, President of Idaho Bath Solutions. "This is why it's so gratifying to have our process and results honored in this way by Qualified Remodeler."
The remodeling industry is booming
In determining its annual list, Qualified Remodeler analyzes the remodeling industry at large. In 2015, the publication reports, the industry has rapidly grown in the last year.
"Qualified Remodeler measured gross revenue for the top companies at $6.6 billion in 2013," a news release states. "With year-over-year growth to $7.5 billion in 2014, the industry is on fire. The contractors and renovation specialists of the Top 500 completed nearly 1,046,000 jobs in 2014. That's more than a million happy customers all across the country enjoying new bathrooms and freshly renovated homes."
The Joint Center for Housing Studies of Harvard University, a research firm dedicated to continual analysis of the housing industry, expects the remodeling boom to continue in 2015, projecting record numbers for the industry at large. In their annual report on the remodeling industry, entitled, "Emerging Trends in Housing Market," the Joint Center reports that the home remodeling industry is worth $300 billion. The industry, which was barely slowed by the Great Recession, is strengthening far more rapidly than are the construction industry and the retail housing market.
In the same report, the Joint Center states that homeowner spending, making up the majority of industry's $300 billion, has remained fairly stable for the past 10 years. In 2013, homeowner spending on improvement and remodeling projects totaled $192 billion. Bathroom improvements make up 7.7% of the $192 billion, which equates to nearly $15 billion overall.
A lucrative bathroom remodeling franchise
As proud as we are of Idaho Bath Remodeler for cracking Qualified Remodeler's "Top 500," list, our bathroom remodeling franchise owners typically outperform our main competition of small-time contractors, who do not have the name recognition, corporate support, access to products, ability to offer financing, and warranties to compete with us.
According to the U.S. Bureau of Labor Statistics, the average general contractor brings in about $93,000 a year in revenues. The average Re-Bath franchisee brings in about $1.78 million annually in gross sales, according to our Franchise Disclosure Document.
"We've been able to put systems in place to help our franchisees provide a uniform level of quality of service, and that has been critical to the success of our brand," says Marty Rasmussen, President of Re-Bath. "The reason that our franchisees average $1.78 million in annual gross sales is because when they buy a bathroom remodeling franchise, we teach them how to run and grow the business. We have comprehensive training platforms, which go over in detail nearly every aspect of being a Re-Bath franchise owner — from hiring to training their employees to correctly and efficiently installing our products."
Learn more about the Re-Bath franchise
For in-depth details about the Re-Bath bathroom remodeling franchise opportunity, download our free franchise report.