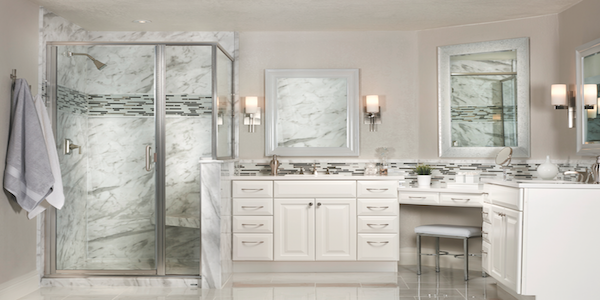 How a Dallas home improvement business increased their revenue by partnering with Re-Bath.
When Ralph Stow opened a home improvement business in Dallas eleven years ago, he quickly realized the best way to compete in a fragmented market was by serving as a design-build firm with a staff of architects, designers and six full-time project managers.
"Most of our jobs were from $200,000 to $2 million," he recalls. "The revenue and margin lines looked good, but the take-home wasn't as good as I expected."
Then Stow learned about Re-Bath, and flew to Phoenix for a Discovery Day. "We decided if what they were saying was true, we could almost double our margins — as well as double (or better) our net income."
Since Re-Bath has a large base of franchisees, he says, "it was easy to go to them individually and ask how they ran it. We visited several locations before signing up. Having an open mind and going out to do research made it a pretty easy decision."
Stow's design-build business was already well-established in upscale areas like Plano, North Dallas and Frisco, so he viewed his Re-Bath business as "a nice add-on, which we could take to areas outside Dallas/Fort Worth." He never intended to close down the large-scale operation.
But within the first two years, the new franchise achieved "substantial growth. When both businesses became roughly equal in revenue but substantially different in gross profit and gross margin, it made more sense to ramp up the Home Brands business side" — including the Re-Bath franchise and a 5-Day Kitchens franchise, both for rural areas stretching roughly 300 miles to the east and west of Dallas.
"In rural markets," Stow notes, "TV is less expensive. It's about 50% of our marketing budget, and we've also devoted a lot of time, money and effort to digital lead generation."
From the moment a prospective customer requests a brochure or information, they're guided through the building cycle with a series of customized emails and texts, and can opt in or out at any time. They're first attracted via pay-per-click, search engine optimization and search engine marketing.
They're also attracted by recommendations from other customers. "Every year we get more and more," Stow says. "About 25-30% of our business comes from referrals, which is much less expensive than paying for lead generation."
One reason customers refer friends is because of speedy service. "In the design-build world, you couldn't complete a same-price bath in two weeks because you have to bring in each individual trade. We used to tell our people they'd be hated by the customer after two weeks, but using Re-Bath products and our factory-trained installers, we can get it done in an average of two to five days."
While Re-Bath offers a variety of styles, they're all installed using the same method so "you don't have a plumber learning a new system on every project," says Stow.
"You get a lot of velocity with this product line and process; you do a lot more baths in the same period of time. Customers love that you're not in their home more than two days. We get more revenue, our people make more money, and our customers are happy."