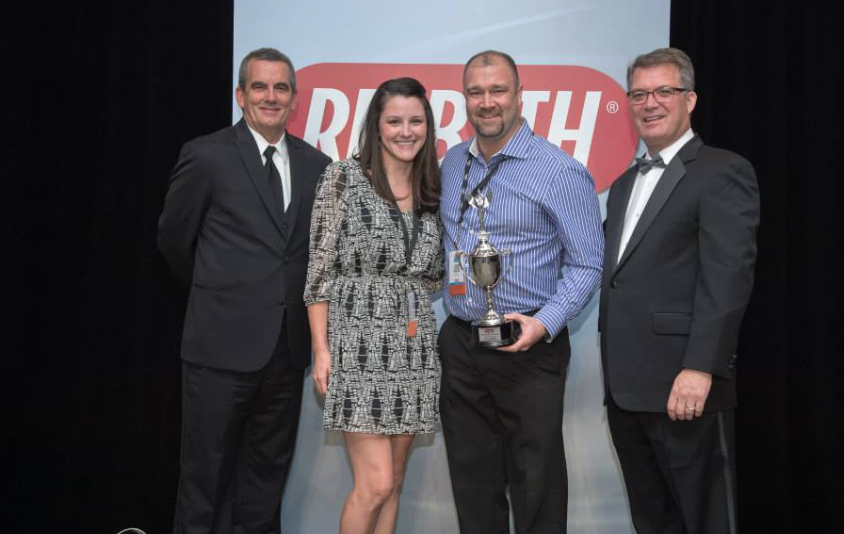 Veteran remodeler grows powerhouse business
When Re-Bath franchise owner and Army-National Guard veteran Josh Agrelius put his remodeling business plan into action, it was a move that was years in the making. His background as a handyman and remodeler led to a job as a Re-Bath employee. He worked his way up the ranks inside Re-Bath, becoming the top sales representative in his region. Before long, he was taking over the reins of his own Re-Bath franchise in Austin, Texas.
As one of the 11 largest cities in the country (and growing), Austin is a burgeoning market that's teeming with potential. This has allowed Josh and his team to fill the surging demand for bathroom remodeling.
"We are a major player in our market," he says. "Other companies do a wide range of work and don't specialize in bathrooms — we are the king of bathrooms. With more than 800 people a week moving to town and the average age of homes increasing, it's an amazing market."
Since 1979, Re-Bath has remodeled millions of bathrooms and maintains more than 200 locations in the U.S. and around the world. Consistently ranked as a top 100 national franchise and among the best in the industry, we custom manufacture our own line of DuraBath SSP products and have developed lasting relationships with the best bathroom product brands to give customers virtually countless bathroom remodeling options.
Last year, Josh and his team received the Rookie of the Year award for their strong sales in a territory of roughly 1.2 million people. "We're a force to be reckoned with in the bathroom modeling arena," he says.
During a Re-Bath franchise review, Josh touched on a few of the qualities that help the franchise continue to attract new customers and prospective franchisees.
What is driving your business today?
"There's nobody else that does exactly what we do," Josh says. Unlike general contractors that are responsible for overseeing a wide range of home improvement areas, Re-Bath offers a commitment to safety, functionality and beautification that helps ensure homeowners are satisfied and given long-lasting results.
Safety and function
Bathrooms are often considered the most dangerous room in a home. For disabled or aging people, stepping in and out of the bathtub is, according to AARP, the biggest step in the whole house. As a result, injuries (sometimes fatal) are easily sustained, particularly by older individuals or those suffering from a disability such as arthritis.
"Safety is constantly on the mind," Josh says. "When you step in a tub and it's slick or wet, it can be devastating."
Re-Bath meets the safety challenge head-on by offering an assortment of features such as low-barrier, non-slip steps and grab bars that keep customers safe. The addition of temperature-controlled valves helps avoid the common threat of scalding hot water.
"It really doesn't matter how much money you have," Josh says. "Unless we provide a safe bathing environment, it won't discriminate."
Beautification
Re-Bath offers a wide assortment of colors and products that have captured the beauty of nature — and improved it — with quality that's guaranteed to last a lifetime. By eliminating the grout found in most tile bathrooms, we ensure a waterproof, non-porous product that won't mold, mildew, peel, chip and rust over time like traditional bathrooms. The result is a less-expensive option that still rivals the look of custom, high-end remodeling jobs.
Why customers choose us
Re-Bath's development of a linear installation system allows our teams to bring an outdated bathroom up to modern standards in as little as two days. Our seamless, waterproof products offer lasting results while still providing the overall aesthetics that homeowners seek. Other remodeling manufacturers produce materials that do not withstand the test of time and eventually need replacing. A lifetime warranty gives Re-Bath customers the reassurance that their bathroom remodel will be done right and will last.
Re-Bath franchises are fully insured to protect both homeowners and our employees. Without the use of general contractors that typically take 20 percent off the top to manage installation crews, we help keep pricing considerably lower — roughly 10 percent-15 percent less than homeowners can expect from bigger remodeling companies or independent, high-end remodelers.
Why do you like being a Re-Bath franchise owner?
"The Re-Bath process has proven itself in the over 35 years it's been around," Josh says.
"When you get to meet your neighbors and help them solve problems, it makes you love what you do," he says. "I like the community and networking with other owners. I like being part of something bigger than I could be on my own."
A commitment to provide a quality product in a reasonable time frame and to suit a variety of budgets allows Re-Bath remodeling franchisees flexibility and room to grow as their area sees more and more remodeling requests. Getting to know the community and helping them solve homeowner issues are what drives Josh as a franchise owner. In fact, the franchisee met his wife while working on an installation. They now have two kids, Laney and Gunnar.
What skills are important as a Re-Bath owner?
Honesty, integrity and loyalty are all integral for prospective Re-Bath franchisees, Josh says. While some level of industry experience is important, the ability to be green and constantly growing instead of being too stagnant and set in your ways is an asset for remodeling franchise owners.
"Always having that mentality that you'll do whatever it takes to do it right" is something he says sets Re-Bath franchise owners apart from the rest.
Learn more about Re-Bath
For in-depth details about the Re-Bath franchise opportunity, download our free franchise report.