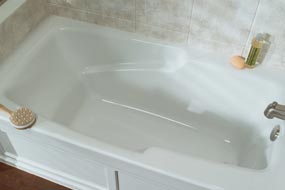 Converting to a Re-Bath remodeling franchise can streamline processes, boost marketing power, add discounts, and can change the equation for your business.
Re-Bath's proprietary remodeling process creates stunning results in a fraction of the time of traditional processes, which gets contractors on to the next job more quickly while increasing profits.
Most home remodeling contractors search for ways to increase profits by working smarter rather than harder. After all, there are only so many hours in a day. What many home improvement professionals have discovered is that they can do just that by aligning themselves with a company that has a long and proven track record of helping the independent contractor supercharge their business.
That company is Re-Bath, a bathroom remodeling franchise with over a 150 locations across the country. Re-Bath has completed over 1 million bathroom remodels, or an astounding 32,000 remodels per year.
And just like independent contractors, Re-Bath has plenty of room to grow. Re-Bath remodels are currently available to only half of consumers in the U.S., so the company is opening brand new locations and also working with existing remodelers who are ready to convert their businesses to the Re-Bath brand. There is a huge opportunity for remodeling professionals to grow. Here's why:
Re-Bath Contractors use extremely fast remodeling processes to complete more jobs per year
Tub-area only jobs are usually completed in 1-2 days.
Full remodels typically take 3-5 days.
Re-Bath's remove and replace remodels provide a new look while avoiding the logistical challenges and expense of moving plumbing and electrical.
The speeds of our remodeling processes make it possible to tackle many more projects each year. Many Re-Bath franchisees complete 200+ remodels per year.
Re-Bath Contractors have a significant market advantage
Re-Bath's proprietary products allow you to create "Wow" remodels at a mid-price point. Consumers with mid-range budgets ($12-25K for remodel) cannot get these options elsewhere. This provides a huge competitive advantage that helps you win more customers, and that sets you apart from remodelers who can only offer acrylic tub and shower enclosures in basic colors.
DuraBath™ thin natural stone offers customers the luxury of natural stone finishes at a more affordable price point. The product consists of a narrow slice of natural stone that is backed by corrosion-resistant structural support. It's beautiful, strong and lighter weight, which makes it much easier for remodelers to handle and install. That's just one example of Re-Bath's product innovation.
Franchisees have access to marketing tools that drive significant lead flow, and sales training that increases the percentage of leads that become sales.
Re-Bath has a special relationship with Home Depot that provides a huge potential lead source.
Re-Bath can help generate significant revenue**
Re-Bath generates about $180 million in systemwide retail sales.
The top 25% of Re-Bath franchisees averaged $3.86 million in sales, well above the average contractor revenue of $93,000.**
The top Re-Bath franchisee generated about $10 million in sales in 2014.
Why Re-Bath is ideal for contractors
We are an ideal franchise opportunity for contractors. While any savvy business person can become a Re-Bath franchisee, contractors have a much smaller learning curve. You already understand the remodeling industry and have worked with homeowners, typically on much lengthier projects. But you may have hit a ceiling in terms of what you can earn as an independent contractor. Re-Bath can re-open and redefine your potential.
Having been in business since 1979, we put in decades of work to hone our remodeling and business systems. We remodel about 32,000 bathrooms a year, and we're a leader in the remove-and-replace remodeling segment, where we strategically target the middle- and upper-middle income consumer. We offer superior finishes from our own manufactured product line, an accelerated project timeline of 5 days or less, warranties and exceptional customer service. All of these factors help increase the number of jobs Re-Bath franchisees are able to complete, and lift revenue potential while also delivering quick and beautiful remodels to customers, which leads to a lot of referrals.
With Re-Bath, you'll still be your own boss; we provide support, but you own your local business. You'll be working in an industry you know and love. You can take advantage of connecting your name and reputation with a highly regarded national brand, which can make it easier to sell your business when you are ready to retire. Best of all, we offer low startup costs for contractors who want to convert their existing business to Re-Bath. You may be able to open a Re-Bath franchise for as little as $20,000.
Learn more about the opportunity
To receive a specific estimate on how much it would cost to convert your contracting business to a Re-Bath franchise, please fill out the no-obligation form. We will be in touch as soon as possible. We look forward to hearing from you!
*Joint Center for Housing Studies of Harvard University
**U.S. Bureau of Labor Statistics