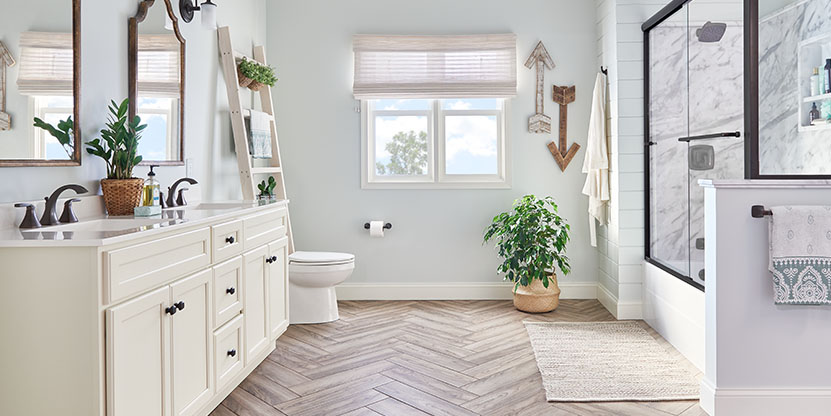 Dan McGann, one of Re-Bath's top-performing franchise owners, shares how he grew his business
Before becoming a Re-Bath franchise owner, Dan McGann was vice president of operations for a shower door company. He started his career as an industrial engineer and advanced to overseeing 13 manufacturing plants throughout the United States and Canada."I worked for that company for over 20 years, but decided I wanted to go into business for myself," he said. His search accelerated when the business was purchased. He wanted to take control of his own destiny. "I didn't want to be in my mid-50s with an outdated skill set, trying to work in the same industry."
He learned about Re-Bath from a friend who hired a Re-Bath franchise for a bathroom remodel.
"From there, I started to explore the possibility of going into business for myself more seriously," McGann says. "I knew the franchise model would be less risky than starting a business from scratch, and I knew that if I could get a business I could understand, I would be able to execute pretty well."
Building a top-performing Re-Bath bathroom remodeling franchise
McGann built his location from the ground up, starting with zero sales and a team that consisted of him and "a guy from my baseball team" serving one county in Delaware. Today, his business serves Delaware on New Jersey, and he has about 50 employees, including 20 installers and 15 sales people. His project pipeline keeps everyone busy. He says about 60% of his projects are tub/shower conversions and upgrades, and 40% of projects are full bathroom remodels.
"We have had a number of growth spurts as we've expanded territories," he says. "We have experienced 100% (year-over year sales) growth, 10% growth, and no growth in years when we cooled our jets to get our systems and processes caught up. Our goals change year by year based on opportunities and our ability to execute. By and large, we have been able to decide how much we are growing."

Key to growth: People
McGann credits his success to hiring the right employees, using the Re-Bath systems, and learning best practices from Re-Bath's network of other franchisees. He calls the peer relationships with fellow owners one of the brand's biggest strengths — and one that is often underestimated by people who aren't yet part of the brand.
"There is a strong system and we have 100+ franchises doing the same thing you are, who can help you understand the right and wrong ways to move forward," he says. "The network is more open to sharing than I had anticipated. Because we own our territories, other franchisees are not afraid to share info. We are all on the same team."
Key to growth: Product
He also credits Re-Bath's wall and basin systems, and the commitment of the corporate team and fellow franchisees to delivering an outstanding customer experience. "We have a lifetime guarantee on the product and the product is beautiful."
He credits Re-Bath's manufacturing facility and warehouse in Arizona for keeping quality high. Materials are sold to franchisees as wholesale price, with a small percentage set aside to fund an account that pays to honor warranties nationwide.
Future is bright
McGann says the way things are going, he thinks he might want to run the business another 10-15 years.
"My efforts have had a direct effect on my profitability, and I've been able to run a very effective business. That is the freedom that is afforded as a Re-Bath owner," he says. "Success isn't guaranteed. You can lead a horse to water, but you can't make him drink. You have to be able to execute on the plans Re-Bath provides. But it can be quite rewarding."
Explore the franchise opportunity
To learn more about Re-Bath's business model and discuss how it might fit with your business goals, fill out this form. One of our Business Development Specialists will be in touch within 24 hours to share details about the opportunity and answer your questions.