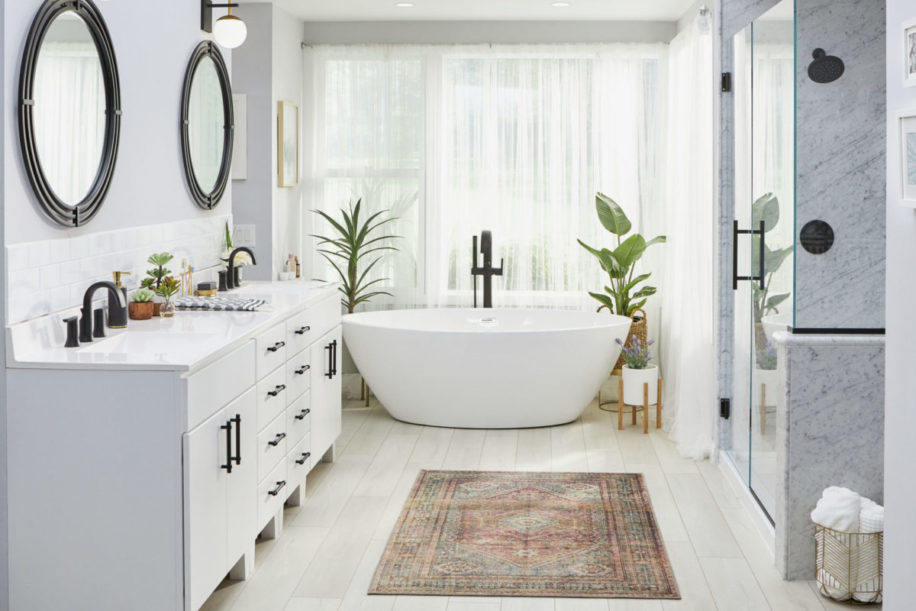 In a 25-year career, Michael Hembree never had operated as a franchisee, but he found an opportunity he couldn't resist with Re-Bath
Michael Hembree had achieved a level of success that gave him options for expanding and diversifying his business. He could have focused on growing his commercial cabinetry and casework business focused on schools and hospitals. He could have accelerated his expansion into other types of cabinetry. He could have partnered with other construction-related companies.
Ultimately, Hembree chose to become a Re-Bath owner. He will continue to expand his reach in plastic laminate cabinetry and other custom fixtures, but by joining Re-Bath he's also added bathroom remodeling to his business portfolio.
A colleague recommended Re-Bath
Teaming up with Re-Bath was an easy decision for Hembree, whose 10-employee company, Ottawa Fixtures, is based in Seneca, Missouri, and serves customers in four states – Missouri, Arkansas, Kansas and Oklahoma.
Hembree previously had done work with a big box home improvement retailer that works closely with Re-Bath. The retailer suggested Hembree look into Re-Bath. He did and liked what he found.
The opportunity and business model were a great fit
Re-Bath's emphasis on upfront communications with customers and a well-defined remodeling process that reduces the time required on projects fit well with the way Hembree operates his commercial business.
"From everything that I've seen so far, it's very streamlined," Hembree said of the way Re-Bath handles projects. "They do a good job of presenting their method of things."
The Re-Bath method is two-pronged:
Emphasize front-end communications to establish expectations and help customers make decisions.
Use a dedicated staff instead of subcontractors, making it easier to complete projects quickly with consistent standards.
Hembree already relied entirely on his own employees instead of subcontractors to do all work. The emphasis on customer relations is one big difference that Hembree sees between commercial and residential projects. On commercial projects he deals primarily with architects with in-depth construction knowledge. On residential jobs, you have to educate the customer and build a relationship, maintaining communications throughout the project. Re-Bath's well-defined customer communications process provides its franchisees an advantage in maintaining the customer relationship.
Everything fit together, and Re-Bath had territories available within Ottawa Fixtures' four-state footprint. So, Hembree set off on the latest venture of a 25-year entrepreneurial career. This is the first time he's operated as a franchisee.
More consistent cash flow
Hembree sees several advantages to being a Re-Bath franchisee beyond the comfortable fit between his way of doing business and Re-Bath's process.
When he looked for expansion opportunities, one of his top goals was to make his project flow less seasonal. With strong market share in the school sector, his commercial business tends to follow the school calendar with projects focused on times that students are off. Residential remodeling is spread more evenly throughout the year, which will help to smooth out revenue flow.
Another advantage is the strong brand name of Re-Bath and its referral relationships with other large home improvement brands, which will help increase visibility. And, though he's an experienced businessperson, operating as a franchisee provides access to support if needed.
"We look forward to building a great partnership with Re-Bath and learning the in and outs of the proven system that they have had for many years," Hembree said. "It will be a blessing to work with such a professional company, knowing that you have a partner that is there at every corner to help our team make our new adventure as successful as possible."
Get a free business model eBook
If you are ready to take a more in-depth look at the Re-Bath franchise opportunity, fill out our form to download our Business Model eBook. It includes financial performance details, a detailed look at how Re-Bath stands out from competitors, and an outline of the support Re-Bath offers franchisees.