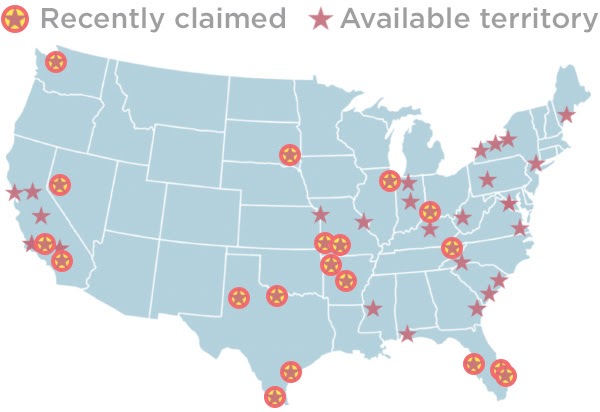 Re-Bath franchisees saw sales surge and Re-Bath opened 17 new territories last year
2020 was an extraordinary year for Re-Bath growth.
We opened 17 new territories thanks to expansions by our current franchisees and the addition of new entrepreneurs eager to bring Re-Bath to new markets.
We hired a new Chief Operations Officer and a new Chief Financial Officer to boost our franchisee support.
We hired a new Franchise Sales Director to help people who want to learn more about the business opportunity.
Most importantly, we worked closely with our franchisees through the challenges of a pandemic and saw average sales not just hold steady — but soar.
Here's a recap of 2020, and a look at why we're excited for 2021.
America's biggest full-service bathroom remodeling brand got bigger
One reason we hired a franchise sales director, Taylor Hernandez, is because there is a lot of opportunity for Re-Bath to serve more customers. As the map below shows, there are a lot of prime territories available — but they also started to be claimed quickly in 2020. For those investigating the Re-Bath business opportunity, Taylor is the first point of contact and a guide to help you get the resources you need to make a decision.
Thanks to our national TV advertising presence and close relationships with the largest big-box home improvement stores in the country, franchisees are positioned for a strong start when they join Re-Bath.
Expanded leadership team
David Dunsmuir joined Re-Bath in November as COO. He previously was with The Home Depot for 18 years, where he oversaw the most profitable region in the country (New York/Boston). He has also served as an executive with Target, Lumber Liquidators, and Cabinet Depot.
David Japhet became Chief Financial Officer in September. He has more than 25 years of strategic, financial, and organizational restructuring experience. David's specialties include developing sustainable restructuring plans, strategic alignment, market focus, change management, business performance improvement, budgeting, forecasting and cash flow management — skills he uses to help franchisees boost profitability and increase the value of their business.
Both Davids join an already-strong leadership team and will expand our ability to drive further sales growth for franchisees.
Strong sales growth, and an even brighter future
Each April, we release our annual Franchise Disclosure Document. It outlines, among other things, the financial results franchisees have been able to achieve in the prior year. Last year, we were proud to show that franchisees with territories between 500,000 and 1.25 million had average sales of over $1.92 million in 2019. That was up 11% from 2018.
In early 2020, we announced a major strategic relationship with one of the largest home improvement chains in the country, making Re-Bath the nationwide supplier for bathroom remodeling services at more than 1,000 stores — with the potential to serve 1,700 stores in the U.S. as franchisees open in new territories where the retailer already has a presence. This program is already creating accelerated growth for many of our franchisees. And frankly, we're eager to fill additional territories so we can serve all of the retailer's customers. Take another look at the map above. That's a map of significant growth opportunity.
We won't be able to release the numbers for 2020 until we file our new report in April, but it will be more good news. Franchisees reported strong sales throughout 2020 in spite of the disruption caused by the coronavirus. While regulations prevent us from sharing specifics outside the current FDD, franchisees can tell you what you need to know. After you download your free franchise report, if you decide to learn more about the brand we will provide introductions so franchisees can share their insights.