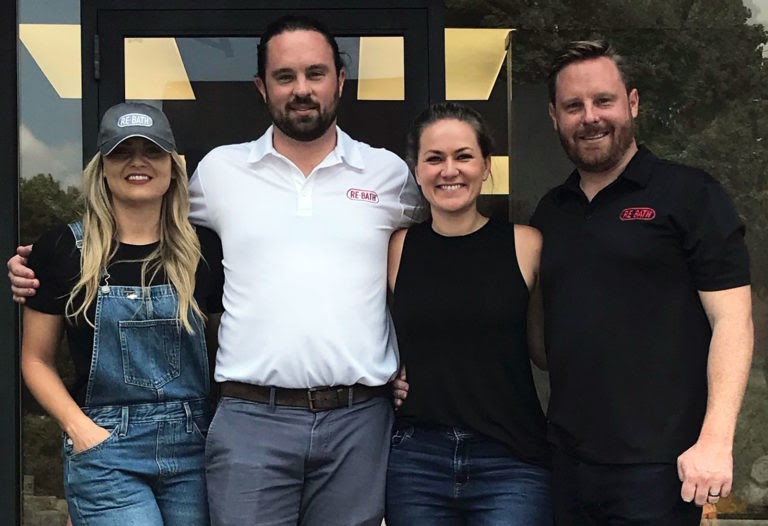 The new franchise has grown from a two-brother startup into a powerhouse now serving more than 40 home improvement centers as a key service partner.
Re-Bath of Atlanta owners Hunter and Chase Johnson recently celebrated their first year in business. "It's been pretty incredible," Chase says. "It's been really just an interesting year. A lot of change, but it has been great."
When they opened the franchise on Sept. 7, 2019, the team consisted of Hunter and Chase. Now, one year later, they have added 10 employees and are providing bath remodeling services for more than 40 big-box home improvement stores in the Atlanta area.
"Every month has been bigger than the month before," Chase says. Re-Bath's national supplier relationships with large home improvement retailers has been a huge factor in their growth, he says. Even though they were a startup, they embraced the opportunity to serve a huge swath of the stores in the region.
One key moment came when a major home improvement chain decided not to renew a bathroom remodeling contract with its previous service provider. Chase and Hunter heard through the grapevine about the opportunity and reached out to Re-Bath Chief Revenue Officer Sharon Villegas to develop a plan and help get a meeting. "Sharon and (Marketing Director) Lindsay (Ellis) are my go-tos. They are great."
Hunter notes that before they became franchisees, they spoke with everyone on Re-Bath's franchise support team and liked what they heard, but they also decided to pop in on franchisees to get their opinions. The general consensus: Not everything was perfect, but most things were great, and the brand was headed the right direction under the new leadership team that took over a few years ago. The honesty and alignment of vision were refreshing. Consistent communication between the corporate team and franchisees has kept it that way.
As the Johnson brothers rapidly ramped up their business, they turned to fellow Re-Bath franchisees for advice. One of their key hires has been a brand ambassador who visits the home improvement stores regularly to do product knowledge sessions with store associates. "We picked a lot of people's brains about how to create that position," Chase says. "How to write the job description, what the responsibilities would be, and the compensation package."
Of course, 2020 has had some bumps, the biggest of which was figuring out how to deliver services in the midst of the coronavirus pandemic. This is especially challenging because Chase's wife, Leigh, works in a Covid-19 ICU — creating an elevated risk of infection. "I really didn't feel comfortable going into people's homes" because of that risk, he said.
Fortunately, Re-Bath corporate worked with local franchise owner, Jon Whitmer of Re-Bath Lancaster early on in the pandemic to develop and provide a virtual sales presentation guide to all franchisees to utilize when they were unable to meet with the customer in their home. Chase and Hunter were able to utilize this guide to create a virtual presentation for their franchise that could be delivered via screen-sharing tools like Zoom. Customers liked the presentation so much that they continue to use it now that the Johnsons have a sales team that can more safely do in-home visits. For customers who prefer a face-to-face meeting, it's a great tool. For customers who are strictly social distancing during the pandemic, it's an essential tool.
The Johnsons also note that it's not easy growing a new business so fast, but that they have a spectacular vision for what they can achieve within the next year or two.
"I'm more stressed and more confident than I was at the beginning," Chase says. "We're loving it. At the end of the day, we're looking to make money, and we feel pretty good about hitting some pretty big goals."
Learn More About the Opportunity. Get the eBook.