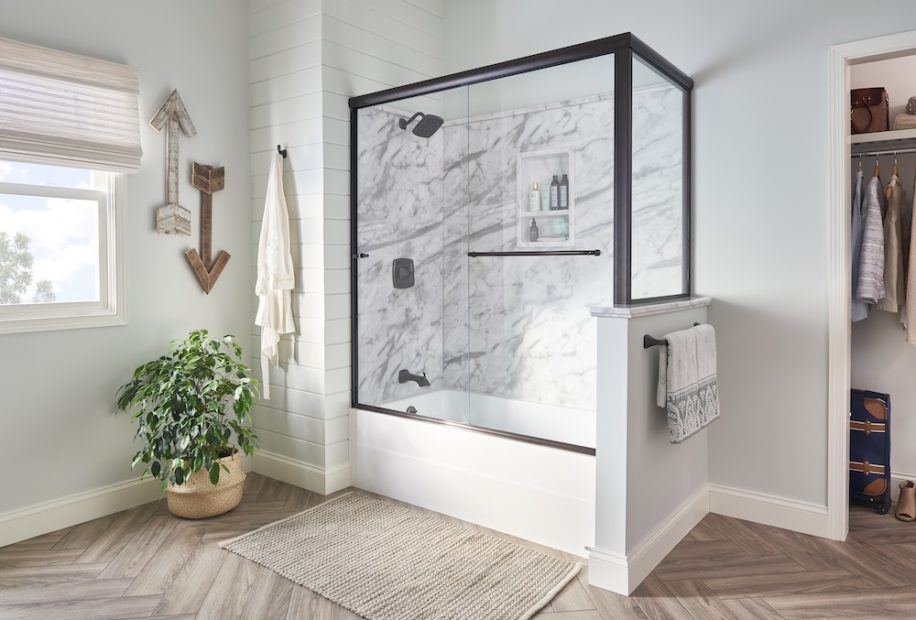 Leaving behind his old career, Zavala chooses the top franchise in a booming bathroom remodeling industry.
Niko Zavala crunched the numbers while considering whether to leave his longtime corporate job to become a Re-Bath franchisee.
"I really saw it as a chance to be in control of my own destiny," said Zavala, who launched his Re-Bath business in December 2020 following a nearly two decade career with a big box retail chain.
Charting a new path appealed to Zavala for several reasons. He first learned remodeling while working in his father's construction business in Joplin, Mo.
"Starting my Re-Bath business gave me the opportunity to give something back to my family when I retire and to avoid the experience of bouncing us around to various locations, not sure where we will end up," Zavala said. "I love where I live and I wanted to stay here."
With two young boys, the idea of putting down roots for the long haul helped convince him to start own business. He chose Re-Bath because of its reputation for high-quality materials and service, something he learned about during his days at Lowes.
"They were part of our network, so I looked at their program," he added.
With higher-than-average profit margins for remodeling companies across all markets, Re-Bath's numbers looked enticing. According to the National Association of Home Builders, average gross profit margins are a little better than 30% in the remodeling category, while Re-Bath owners in areas with a population of 500,000 or greater report gross profit figures consistently above 45% on average, according to Re-Bath's Franchise Disclosure Document (FDD).
"There's a big demand right now for home improvement and remodeling," Zavala said. "We have had a very successful past few months, outpacing our projections."
Their office has grown to three design consultants and three installation crews in addition to the office team. The plan is to just keep on growing.
"A general goal I've tried to operate off of is to provide a service to the community and provide employment for great people," Zavala said. "We are hiring people who want to improve people's homes, do a good job, and take pride in their work. We are making our customers happy, and eventually that should turn these jobs into careers for everyone."
"One thing I love about the franchisees is that everyone is eager to share any information they can to help one another out," Zavala said. "That has been a huge advantage for me. I have been able to get questions answered about how things are done in different areas and get excellent advice."
As for his experience with the company itself, Zavala said he is "very pleased."
"Re-Bath really knows how to support their folks in the field (franchisees)."
While Re-Bath may be categorized as a home improvement business, for Zavala, it's also a place to build relationships, develop a team spirit and do good work.