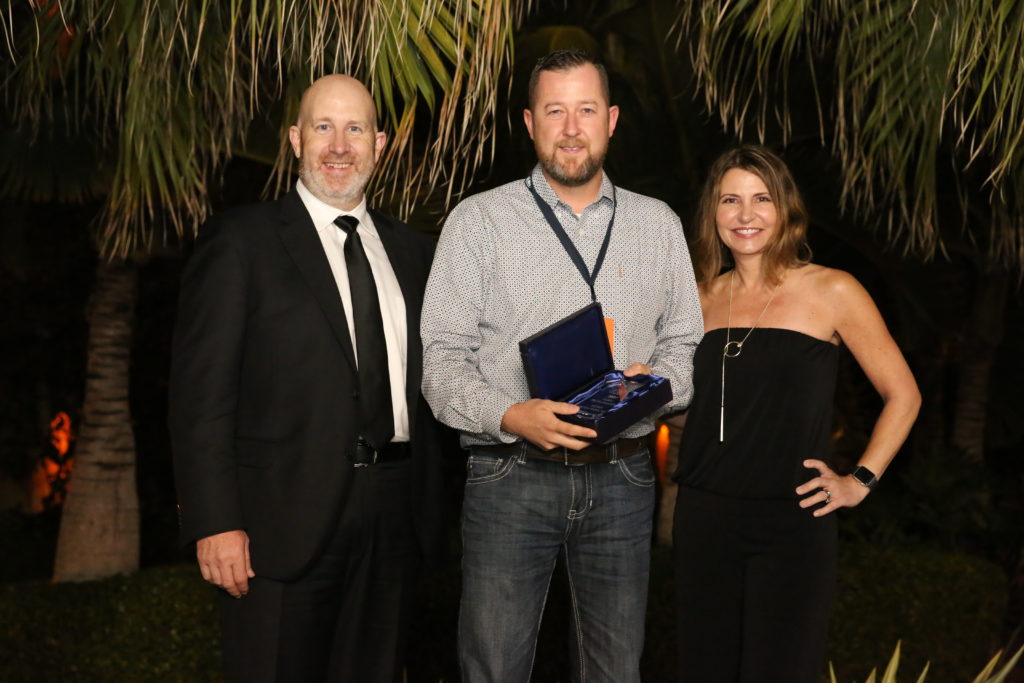 Re-Bath franchisee Henry Wall (C) was recently recognized by our CEO Brad Hillier (L) and CRO Sharon Villegas (R)
Henry Wall owns four Re-Bath territories serving Texas, Oklahoma and Arkansas. He runs the business alongside several family members and was recently featured on StartupNation.com, sharing advice on running a family business. Here's the advice he shared.
"After being in business with family for the past 12 years, owning and operating four Re-Bath franchise locations, I've seen firsthand the secrets to long-term success."
He offers five tips:
A family business means everyone is the boss: FALSE. A clear delineation of roles is important. It's one reason that being a family-owned franchise business can be a big advantage. With a defined business format, organization plan, and clear roles and responsibilities already in place, family members with requisite background and skills can slot right in.
A family business experiencing conflict signals its demise: FALSE. Healthy conflict is key. Issues naturally arise in any business, and successful businesses confront issues, listen carefully and evolve. The leader of the family business should have a conflict resolution mechanism agreed to and in place to break ties and ease potentially explosive family situations.
A family business means only family should work for the business: FALSE. Outside talent brings fresh ideas and perspectives that make your business stronger. This is another area where joining a franchise can be a big benefit. A large outside support network comes with the brand.
A family business is often full of drama and feelings getting hurt: FALSE. Communication, clear expectations, and weekly meetings make a huge difference. If you're running your business based on key metrics and transparency, that helps minimize drama. And the interpersonal connections between family members can be a real strength. Just be sure to set aside some family bonding time outside of work.
Re-Bath is tailor-made for families to do business together.
Learn more about starting your own Re-Bath
If your family is looking for a high growth, high volume business to grow together, fill out this form to download our free Business Model eBook. It contains an overview of the remodeling industry and details about how Re-Bath stands out as an opportunity. See why customers and franchisees choose Re-Bath.
Taylor Hernandez will then reach out to learn more about you and your goals. If it looks like a good match, Taylor will then guide you through a process of learning more about Re-Bath, meeting the leadership team, meeting and asking important questions of franchisees, and making sure you get everything you need to make a great decision.