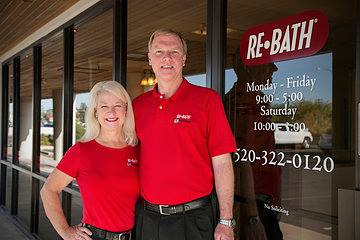 Three Re-Bath owners explain how to grow a bathroom remodeling business through the systems and support of franchising
Have you been thinking about how to grow your bathroom remodeling business and take it to the next level? Have you found that there's limited growth of your client base as an independent contractor? Or are you new to the industry and looking for your best chance of success? Owning a Re-Bath remodeling franchise just might be the solution.
Below, three of our franchise owners explain why they joined Re-Bath to create or expand their own successful businesses.
Spencer Shaw, Re-Bath of Southern Idaho and Re-Bath of Spokane
Spencer Shaw wanted to start a family and tame the hectic travel schedule of his job at an architecture and engineering firm, so he began researching small business opportunities. He ultimately decided that franchising was the best way to build a successful and scalable business and now owns two Re-Bath franchises.
"I would say for anyone that's looking to own their own business, whether they currently own one or not, the most attractive piece was not having to reinvent the wheel. Franchising and the Re-Bath opportunity presented the chance to get into business ownership with the support of a proven system," says Shaw. "And of the options I was looking at, Re-Bath was the one that seemed to present the quickest return on my investment."
Chris Horney, Re-Bath of Pittsburgh, Re-Bath of Cleveland, Re-Bath of Columbus
Formerly the owner of a home-building company, Chris Horney was able to scale up his business by scaling down the size of his projects and focusing on remodeling with Re-Bath. The support from the management team and the extensive network of other franchise owners has been invaluable in teaching him how to grow his bath remodel business. Between his three locations, Horney and his staff will remodel more than 1,000 bathrooms this year.
"The management team are people at the top of the industry. With the operational structure, marketing and business guidance, they're providing a foundation for everyone else's success," says Horney. "To be in the same business as 100-plus other business owners fighting the same battles, with similar market challenges, and to be able to work with them to improve all of our businesses, that's almost impossible to find outside of a franchise system."
Jeff Walling, Re-Bath of Tucson and Re-Bath of El Paso
Jeff Walling and his wife, Lisa, knew right from the beginning that Re-Bath would be the right franchise system for them. They knew both the founders of Re-Bath and the previous owners of the Tucson franchise, so when the Tucson territory came up for sale, they were already knowledgeable about the many advantages Re-Bath has to offer.
"The national name recognition of Re-Bath gives you instant credibility and access to things you can't get on your own. If you're an independent contractor, you're competing with every other general contractor. You're competing using the same tiles, the same materials that any general contractor can get," says Walling. "We have exclusive products that we can sell at a competitive price, which generates the good margins we need to make a profit. We're the only ones in the market with these materials and these colors, and we can use Re-Bath's installation processes to get our jobs done quicker."
Learn more about the opportunity
To receive a specific estimate on how much it would cost to convert your contracting business to a Re-Bath franchise, please fill out the no-obligation form. We will be in touch as soon as possible. We look forward to hearing from you!