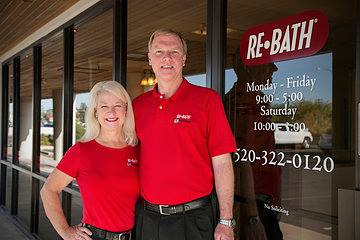 The key to growing and running a successful franchise depends on having a proven business model, corporate support, and a strong brand. Knowing your audience and marketing directly to that niche is also important. Re-Bath franchisees Jeff and Lisa Walling agree.
This powerhouse husband and wife team now owns three Re-Bath franchises: Re-Bath of Tucson, Re-Bath of El Paso, and Re-Bath of Las Vegas. They started their career as franchisees back in 2009. At the time, Jeff owned a Phoenix-based residential real estate appraisal business. But after 20 years, the Great Recession was a catalyst for change. That's when he and his brother, Michael, along with their wives, learned that an underperforming Re-Bath franchise in Tucson was for sale. It was just the challenge they were looking for.
The Walling's experienced growth from day one, growing from five to 15 employees in just two years. In addition to a strong business model, an exploding industry, and the right marketing tactics, the couple attributes their success to three things that you can incorporate into your franchise's business model:
1. Stay true to your core values
For Jeff and Lisa, that means every interaction is rooted in integrity, quality and a positive attitude. They believe in treating employees well, compensating them fairly, providing the tools needed to succeed, and making everyone feel like family. In turn customers are well taken care of, and have been known to make comments such as "Can I adopt this installer?" and "I've never seen anyone work so hard, listen to our needs, and produce such quality work."
Re-Bath of Tucson has remodeled more than 4,500 bathrooms in Pima county, and helped countless people from all walks of life obtain the bathroom of their dreams. The Wallings believe in helping people maintain their dignity and independence by remodeling bathrooms that fit their budgets as well as their current and future needs.
2. Invest in your community and the industry
Jeff and Lisa enjoy giving back to the communities, financially, and with their time and talent. They serve on several industry boards and councils, including the Southern Arizona Home Builders Association Remodeler's Council and the Southern Arizona Chapter of NARI (National Association of Remodeling Industry).
Jeff and Lisa created a culture that brought many awards to the franchise in just a few short years; Re-Bath Franchise of the Year, Remodeler's Magazine Big 50 Remodeler of the Year, the Excellence in Leadership award from Re-Bath Corporate, and an A+ Ethics award from the Better Business Bureau, just to name a few.
3. Focus on building a great team
Jeff and Lisa purchased a second underperforming Re-Bath franchise in 2014, this time in El Paso. Replicating the success of their Tucson franchise, El Paso's business doubled within the first year. The continued growth of their two franchises allowed the Wallings to purchase a third under-performing franchise in October, 2016 — Re-Bath of Las Vegas.
In addition to a Regional Sales Manager, the couple ensures that each of their showrooms is staffed with a great team that includes:
General Manager
Project Coordinator
Extensively trained Design Consultants (sales people)
Certified Installation Teams
The Installers and Design Consultants are commission-based and incentivized based on high-quality production. The Wallings take pride in the fact that their teams treat customers like family.
With positive attitudes, integrity, and a commitment to quality, Jeff and Lisa have created a model for success that inspires franchisees across the country. Learn how you can expand your remodeling business with a Re-Bath franchise, and find out if there is an available market in your area!