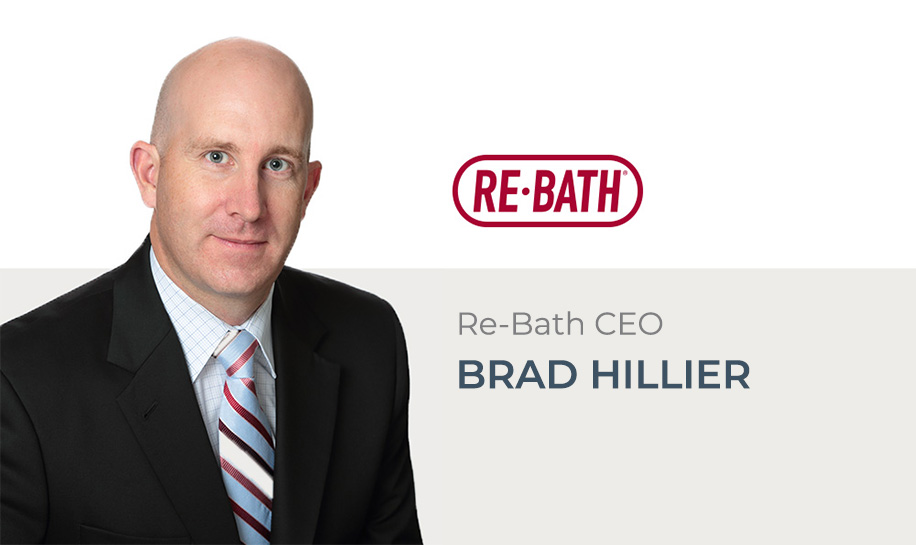 In interview with Franchise Performance Group CEO Joe Mathews, Hillier focuses on the impact of focusing on customers
Re-Bath Chief Executive Officer Brad Hillier recently joined Franchise Performance Group CEO Joe Mathews for a discussion of Re-Bath's growth, its history of innovation and Hillier's plans for keeping Re-Bath positioned as the industry leader in bathroom remodeling.
FPG – Podcast · FPG Podcast Ep1 – Joe Mathews talks with Rebath CEO Brad Hillier
Here are some excerpts:
How Re-Bath transformed from a product-driven company to a consumer-driven one:
"We manufacture our own acrylic bathroom products and really our model was more around selling those specific products to consumers, which meant generally we were doing tub and shower area updates only. But in 2015, we went out and researched the consumer. We discovered that the number one thing that consumers were looking for was really design guidance. And then number two was quality products and an effortless remodeling experience. When we looked at the market, we realized that nobody was offering design guidance on a national scalable business. We saw that as an opportunity. So, we repositioned ourselves starting in 2015 as more of a consumer-centric company where we started building our platforms and tools and systems around how to deliver this experience."
How consumers have responded to the changes:
"Over the last three years, we've been averaging about 10% same-store sales growth year over year. The overall bathroom remodel industry has been growing 3% to 5%."
Describing Re-Bath's target customer:
"Consumers have a range of mindsets. For some consumers, it's 100% needs-based. They're maybe not living in a very expensive home and don't have a lot of discretionary income. But their tub or showers are not functioning properly. They need it fixed and their desire to improve design or upgrade products is not all that great. That's why we call them 100% needs-based customers. Then on the far other end, you have customers who simply want to remodel their space because they want something that looks newer and fresher. It's not that they actually need a new bathroom. This is what we call the 100% want customer. What we're trying to serve at Re-Bath is the middle of that space. It's not so much an economic viewpoint in terms of middle market. It is customers that have some component of need associated with their job, but also have the financial ability to add new designs and features."
How Re-Bath condenses the time it takes to complete a bathroom remodel:
"It's not that it takes three to eight weeks to actually remodel a bathroom (as is often the case for other remodelers). It takes that long because you didn't have a good game plan. You're constantly making changes. You started down one path and then you changed your mind and you started going down another path. That's why consumers start with what they think is going to be an $8,000 bathroom that then turns into a $12,000-$13,000 bathroom. So, that's where we feel like our sales and design process upfront really does establish the expectations in the consumer's mind of what it is they need and what it is they're going to get. We see very few change orders in our jobs. And, because we have staff that are going out and doing the job on a dedicated basis, as opposed to using subs that are trying to manage multiple jobs, we can get in and out very quickly."
How the Re-Bath process helps franchisees boost profits:
"Those two things (a good game plan for consumers and dedicated staff) end up producing substantially better margins for our franchisees than what most general contractors achieve, which obviously means better profits as well. And it's not because we're charging more, it's because we're substantially more efficient throughout the process."
Get a free Re-Bath business model eBook
To learn more about Re-Bath's advantages for remodelers, fill out our form to download our Business Model eBook.