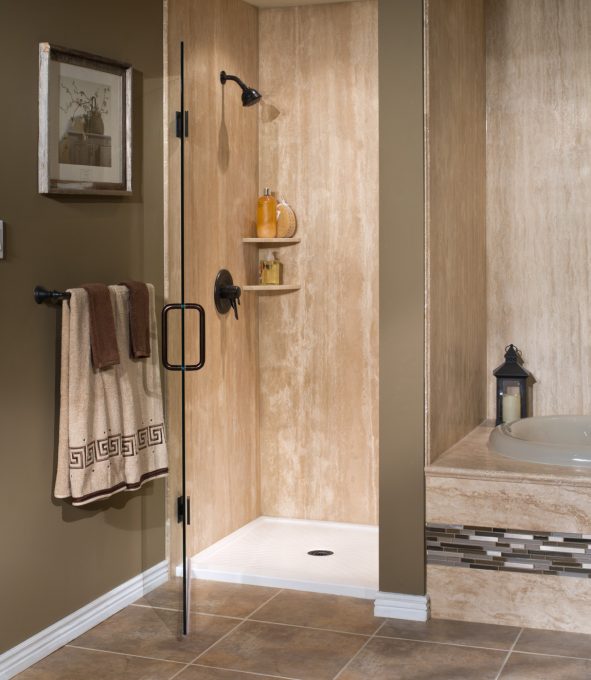 Strong industry growth makes a Re-Bath bathroom remodel franchise the right choice for your short-term and long-term finances
It's always a good time to consider buying a Re-Bath bathroom remodel franchise, but now the timing's better than ever. The remodeling industry has grown every year since 2012, according to a study by Metrostudy featured in Remodeling magazine. The study also found that the industry reached new heights in 2015, earning more revenue than ever before. It shows no signs of stopping, either; the study's outlook goes through 2018 and projects further growth every year.
These numbers show steady, sustainable growth and a strong future, which make this an appealing time to get involved in the industry. Owning a franchise like Re-Bath positions you to build a business that results in long-term equity that will secure your financial future and retirement.
A brand that builds your business
With Re-Bath, you can tap into a national brand that can get you a larger slice of a growing market. The average general contractor brings in around $93,000 in revenue, according to the U.S. Bureau of Labor Statistics; the top 25% of Re-Bath franchisees averaged $3.68 million, according to Re-Bath's 2016 Franchise Disclosure Document.
Re-Bath franchise owners benefit from a proven success model which encompasses our high-end product offerings, buying power and specialized installation methodology. Our streamlined process allows for quick installation of our products. with the completion of full bathroom remodel jobs in 3-5 days. This allows you to take on more clients for a steady cash flow and increased revenue. Our buying power as a national brand gets you better deals on materials and improves the margins on your jobs.
Securing your financial future
When buying a business, you shouldn't look at just the short-term profits, but the long-term potential as well. That's another area where owning a Re-Bath franchise gives you a leg up.
You'll put in hard work as a business owner, but it all pays off when the time comes to sell. When you're ready to retire, the business you've built looks very attractive to someone looking to purchase an established contracting business. Selling a franchise can be easier than selling an independent business. The same advantages that drew you to Re-Bath make for great selling points to anyone looking to buy your franchise. Thanks to our systems and built-in support, it's a simple on-boarding process for new ownership.
Learn more about the opportunity
To receive a specific estimate on how much it would cost to convert your existing contracting business to a Re-Bath bathroom remodel franchise, please fill out the no-obligation form. We will be in touch as soon as possible. We look forward to hearing from you!